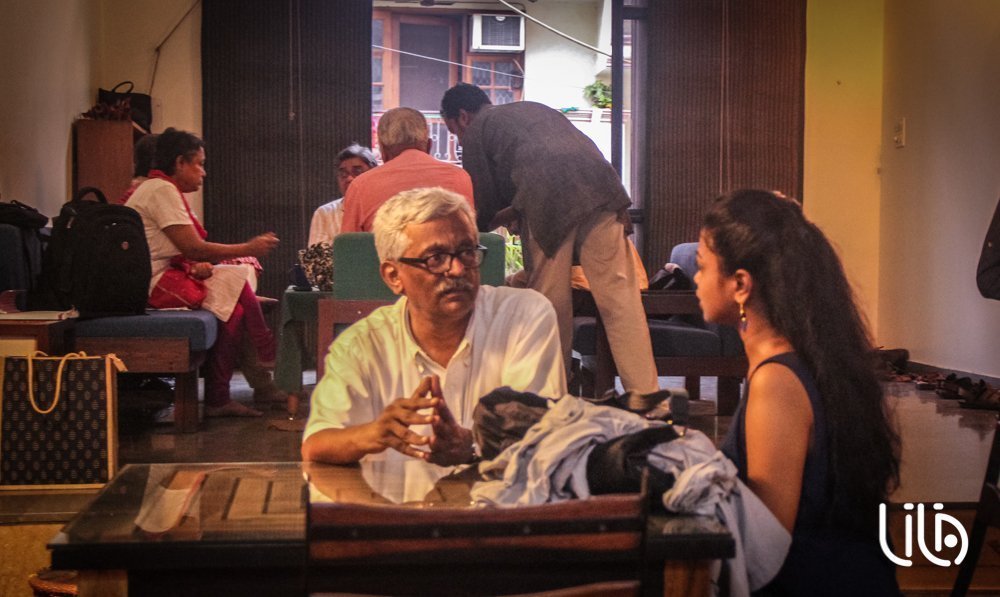 © LILA Foundation
Business, Not As Usual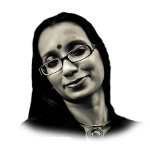 A cartoonist who has been travelling with time since he was 17, when the legendary Shankar recognised the mischievous connection-maker in him. A political observer for about four decades, who has seen our large democracy being handled by 12 Prime Ministers, starting with Morarji Desai, and witnessed the country welcoming coalition with all its ills as its chosen mode of government post-Emergency. A newspaper boy who lingers at the crossroads of memory and dream. Kaapi LILA with EP Unny revealed these facets of the man and the world about him, and more.
One of India's finest cartooning minds, Unny was at the LILA Terra-Sutra Sanctuary of Life Appreciation at Nasheman, Lajpat Nagar II, on the evening of 26 July 2015, to share some coffee time with a group of aesthetes and questers. Showing us a series of parliament cartoons that he has been drawing for a week, Unny initiated a freewheeling conversation on what it means to be a cartoonist, in this country, in these times! If nothing really 'happens', the challenge for the cartoonist is to see how more and more unseen angles of the same context can be brought to the attention of his viewer/reader. In the case of 'happening' times like the days of the budget, the test is to comment on the most obvious thing in the most subtle manner.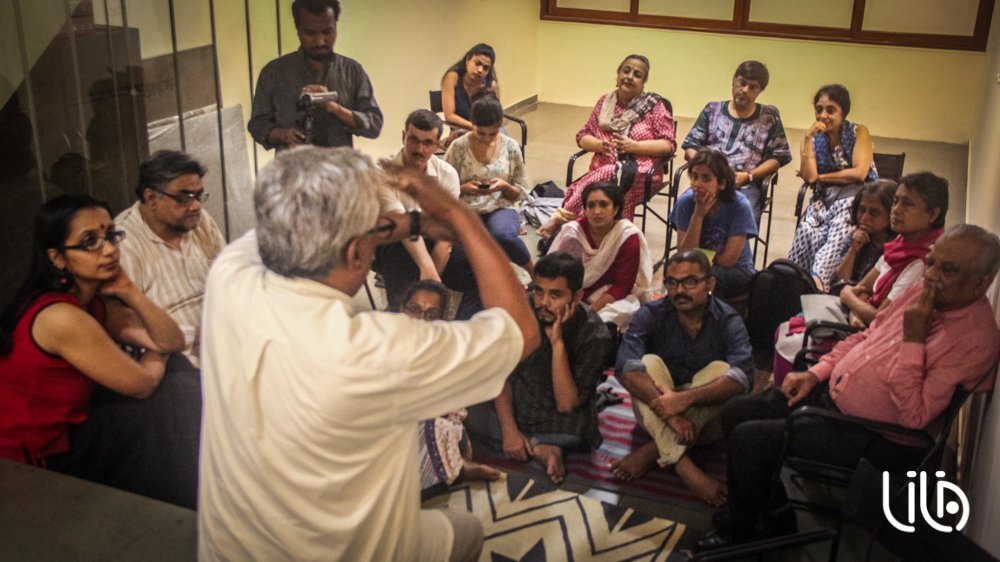 © LILA Foundation
Unny thus slowly unveiled before us the day of a cartoonist, who must be constantly keeping vigil, lest his creation became redundant. How does one keep up the drive? What does this constant observation of the world around him do to a cartoonist, his mind, his craft? And, how much does this vigil count in our times when any alternative expression is looked at with suspicion?
Unny drew our attention to the integral link between the art of cartooning and the cartoonist's quest for knowledge. It is not possible to suddenly refer to books to comment on a momentous development — one has to rely a lot on one's background reading, daily homework, memory. To go beyond immediate reactions and sensational lines; to be able to intimate; to walk with, and at times ahead of, time; to see clearly; to provoke when needed and yet possess the fine balance, one must make 'knowing' one's mission. To a question about whether the performance traditions of Kerala had influenced his art, Unny pointed out the importance of interdisciplinary and comparative studies.
He extended this reflection to respond to the sheer lack of courses that train students in creating and appreciating cartoons, in the institutions for media education. There are no archives on cartoons, and no systematic attempt to understand the field. The situation becomes far bleaker when regimes after regimes get insecure about the cartoonist's sharpness, and make attempts to remove some of the finest cartoon works from public memory.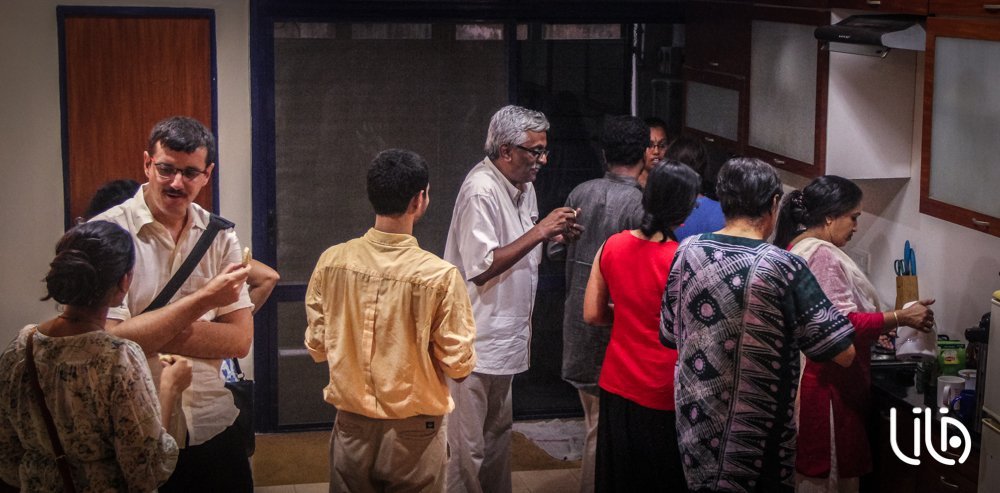 © LILA Foundation
The curious audience wanted to know: What has made Kerala give birth to and nurture a lot of cartooning minds? Shankar, Kutty, Abu Abraham, OV Vijayan, Ravi Shankar, Unny, Ajit Ninan… the list continues. Unny thought the unique 20th century socio-political history of Kerala had a role in facilitating this spectacular array. Responding to a question about the scarcity of women cartoonists in the country, Unny mentioned the late Maya Kamath and Manjula Padmanabhan as two outstanding hands.
For fifteen years since he joined The Indian Express, Unny has been, without a day's break, marking the country's wake-up moods in his inimitable pocket, ironically titled, Business as Usual. Listening to Unny, one felt one could not but agree with Ravikant who had this to say about the matchless newspaper boy, while he served as Chair for Unny's 2014 LILA PRISM Lecture, 'The Comic as Continuity'.  "The boy is with me every morning. In the middle of all the problems of our times, he brings me solace, happiness… and laughter!"
The business of conversation at Nasheman continued with deeper connections discovered over coffee — not the usual stuff, certainly.
Rizio Yohannan Raj
EP Unny is a celebrated Indian political cartoonist. More details here.