Langscaping India: 
The Linguistic Mapping of the Country/State/Nation
Statement of Vision 
With the ever-increasing drive for homogenization in our times, triggered by gloablisation and its resultant insecurities, it is important to realise that while Indians have the same nationality stamped on our birth certificates and passports, we come from pluralistic language cultures. The necessity or origin of any language stems from the need to communicate with another. Also to express oneself. These are done verbally and non-verbally. Orally and in written forms. Each mode of expression and communication is different from another, and therein lies our strength. To suppress one and to give voice to another is nothing short of marginalisation; it violates basic human rights. It is important to give an equal footing to all languages in a multi-dynamic space like India.
Langscaping India is an effort to understand the topography and tapestry of the country in terms of its many-splendoured linguistic spread. Beginning from Delhi, this project is a creative response to the growing intolerance and othering in contemporary India. It is intended at creating a dynamic cartography of languages in the country revealing the continuities and interconnectedness of linguistic cultures.
Hosted by LILA under the project directorship of Professor Apoorvanand and Chief Mentorship of heritage enthusiast Sohail Hashmi, this project is visualised and being worked out as a people's movement for the creation of a democracy of languages in the country by involving various educational spaces, language leaders, and student volunteers as well as community, artistic, entrepreneurial, historical and scientific creativities and initiatives. Language here is looked at in its manifold forms and expressions– visual, oral, performative and the like.
The methodology involves courses in contemporary linguistic histories in different locations for various student levels, foregrounding historical chronologies and social coexistence of languages and mapping the geographical loci of languages through workshops and residencies, A/V exhibitions, creation of a continuing archive of linguistic cultures, public interface programmes to disseminate ideas and cultural strategies of critical significance to the promotion of co-existence, co-operation and commemoration in Indian societies today.
While we understand that a project on linguistic roots may raise heckles in certain quarters, the need for the project arose from the belief that a futuristic discourse linked to languages must be enabled and it should rise above the petty politics of the land. It is meant to look at the necessity of a locale as a space, a multi-lingual space. We believe in the power of the democratic intent of this project as our greatest ally in fighting all forces of acrimony.
At every location, the project will co-opt mentors and language leaders who are attuned with the local linguistic histories to mentor the project. Langscaping India hopes to enable those involved and the viewers into understanding India's need for pluralistic narratives in our times and its necessity to be able grow as an inclusive culture in its communication with the world at large.
Launch Project (2016-  )
Langscaping Delhi: Mapping a City's Linguistic Routes
Delhi is home to many schools of floating population and cultures that make it a hotbed of multiple identities. Delhi, due to its many languages, carries insights at a deep civilisational level; they carry the code of our past, but also the imprint of our future. Languages and societies here have to be inclusive, for they are dynamic and constantly imbibing values from various sources. These evolutions are essentially urban, because it is in the city where people belonging to different traditions come together. It is this mixing of over a 1,000 years of recorded histories of the city that gave birth to the language that we know as Hindustani or Hindi or Urdu; and to it, now, are being added traces of many other languages as new linguistic communities begin to make their presence felt in the metropolis tweaking, adjusting and modifying the language of the city to be more accommodative of their expression.
As Delhi has grown and expanded, it has also gradually evolved into a multilingual geography. Hence, it is vital to look at Delhi and understand it as a multilayered, multicolored linguistic landscape.
'Langscaping Delhi' will trace the city's linguistic routes. Since we cannot look at languages simplistically any longer, while the project intends to map the linguistic spaces in the city, it does not intend to differentiate between a so-called major or minor language.
The project will go through multiple phases and in the first phase we will map the city in accordance with its growth from Shahjahanabad, the seventh city of Delhi that is our starting point. The map, while laying out the growth of the city, will also look at the original inhabitants – the Jats and Gujjars and, the older inhabitants of Shahjahanabad, their movements and language; the arrival of migrants – Punjabis, Bengalis, Maharashtrians, Garhwalis, Kumaonis, Malayalees, Tamils, Biharis, the North Easterners and other language groups; the clusters they formed, the festivals they celebrate and the prose and poetry that are integral to their myriad celebrations.
Each phase will trace their linguistic cultures through signages, oral literature, old poster art, documentaries, folk songs and it can be documented through audio-visual clippings, written literature, documentaries and other thematic interpretations.  Towards this LILA invites volunteers, partner institutions, language communities and enterprises.
Potential collaborators/volunteers/other stake holders may register online.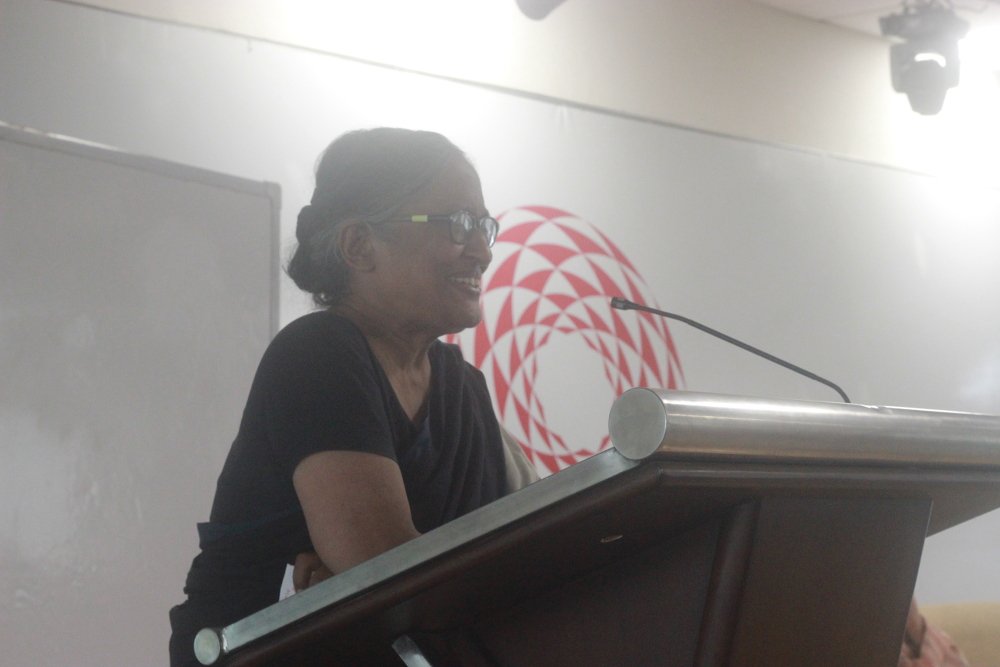 Narayani Gupta speaking to Langscaping Delhi students at Ashoka University
Invited speaker Narayani Gupta with Chief Mentor of Langscaping Inda, Sohail Hashmi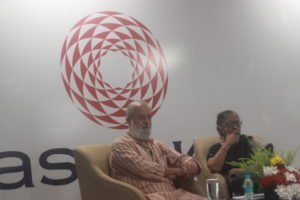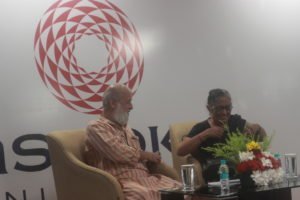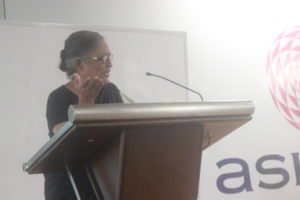 The Co-curricular course on Langscaping Delhi at Ashoka University