LILA Menso is LILA's forum for exploring the immense possibilities of profound reflection and associative thinking that our 'mind' offers us. It brings the focus back on the paradoxical play of living, revealing the urgent reclamations by the slow, reaffirming the directness of the abstract, celebrating the transferability of the seed. It places philosophy back at the heart of the socio-cultural sphere.
Ambitious in its general conceptualisation and rigorous in its specific selection of topics and speakers, each Menso event designs itself to be a unique moment of collective thinking, on the content just as on the form.

Lila: The Choice Play of Governance
in collaboration with FIND and South Asian University
Saturday 7th, March 2015
6:30-8:00 pm – Tea at 6:00
Conference Hall
South Asian University
Akbar Bhavan, Chanakyapuri
Behind Yashwant Place
New Delhi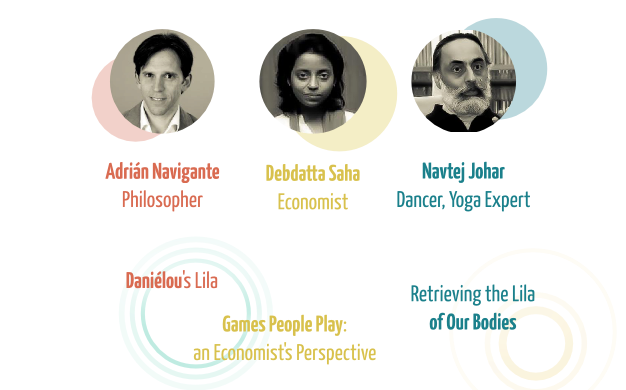 Lila: The Choice Play of Governance will explore Lila, the play, from different backgrounds and sensibilities—philosophy, economics, physical traditions—in an effort to understand how personal choices are made in play, without losing the lightness and cohesion of the social act, and vice versa. This is an initial step towards realising our commitment to evolve organic governance methodologies for our fragmented times.
This event continues our collaboration with the South Asian University, and initiates a new collaboration between LILA and FIND – India-Europe Foundation for New Dialogues. The LILA-SAU collaboration aspires to create a new movement in interdisciplinarity in the South Asian Region. The LILA-FIND collaboration will continue with three events in the next two years: the FIND Indialogue forum in September 2015 in Zagarolo, Italy, the LILA Menso symposium in February 2016 in Delhi, and 'Differences', FIND's international discussion forum, in October 2016 in Rome. We will also attempt to prepare, design and release publications for a new, in-depth thinking joining European and Indian traditions.
Speakers
Adrián Navigante, Director of Research and Intellectual Dialogue, FIND.
Debdatta Saha, Assistant Professor of Economics, South Asian University.
Navtej Johar, Dancer, Yoga Expert, Founder, Studio Abhyas.
Programme
Kavita Sharma


President, SAU

On the LILA-SAU Collaboration
Jacques Cloarec


Honorary President, FIND

On the LILA-FIND Collaboration
Rizio Yohannan Raj
Entering the Play
Adrián Navigante
Danielou's Lila
Debdatta Saha
Games People Play: an Economist's Perspective
Navtej Johar
Retrieving the Lila of Our Bodies
Exchanges with the audience