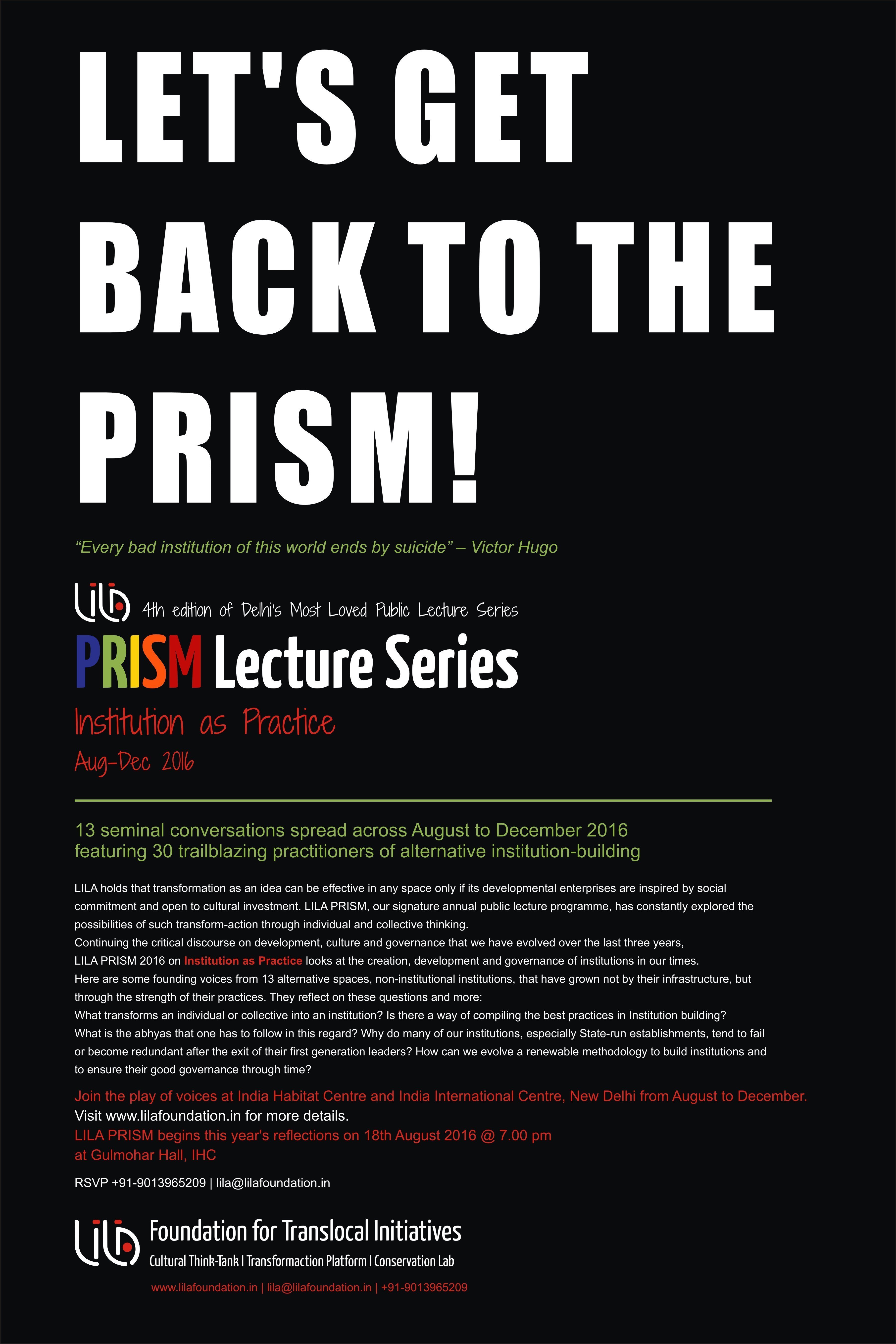 Speakers
August
Kali's Women :
Thirty Years of Feminist Publishing and Counting

Ritu Menon and Urvashi Butalia

Thu. 18 August, 7 pm
Gulmohar Hall, India Habitat Centre

The fourth edition of LILA PRISM on 'Institution as Practice' opens with a joint talk by two remarkable women—Ritu Menon and Urvashi Butalia—pioneers of independent political publishing in the country. Kali for Women, the first feminist publishing house in India, showed us how to integrally link the aesthetics and mechanics of book publishing with a relevant political context. Urvashi and Ritu tell us of their herstoric journey together, as well as of their individual quests now, at LILA PRISM 2016—for the first time. Do not miss it.

| | | |
| --- | --- | --- |
| Urvashi Butalia co-founded Kali for Women in 1984 along with Ritu Menon. In 2003, she founded Zubaan. Her path-breaking study of Partition, The Other Side of Silence: Voices from the Partition of India won the Oral History Book Association Award and the Nikkei Asia Award for Culture. Her other works include Inner Line: Stories by Indian Women (co-edited with Ritu Menon), Speaking Peace: Women's Voices from Kashmir (edited), Women and the Hindu Right: A Collection of Essays, (co-edited with Tanika Sarkar) Partition: The Long Shadow (edited).. She is on the advisory boards of a number of national and international organizations. Among the awards she received are the Pandora award for women's publishing, and the French Chevalier des Artes et des Lettres, the Nikkei Asia Award for Culture. Urvashi and Ritu Menon jointly wrote a monograph, Making a Difference: Feminist Publishing in the South, and also jointly received the Padma Shri, the highest civilian honour awarded by the Indian government, for their work in feminist publishing. | | Ritu Menon co-founded Kali for Women in 1984 along with Urvashi Butalia. In 2003, she founded Women Unlimited. Her works include Just Between Us: Women Speak About their Writing, and Storylines: Conversations with Women Writers (co-edited), From Mathura to Manorama: Resisting Violence Against Women in India (co-authored with Kalpana Kannabiran),  Borders & Boundaries: Women in India's Partition (edited), Unequal Citizens: A Study of Muslim Women in India (co-authored with Zoya Hasan), Making a Difference: Memoirs from the Women's Movement in India (edited), Out of Line: A Literary and Political Biography of Nayantara Sahgal, and numerous anthologies of interviews, stories and poetry, with and by women writers in India. Ritu is Founding member of Women's WORLD, and Women's Feature Service (India), and member of the International Alliance of Independent Publishers (France). She is advisor of various national and international academic journals, and her articles and op-eds focus on feminism and violence, religion and social order.  Ritu and Urvashi jointly wrote a monograph, Making a Difference: Feminist Publishing in the South, and also jointly received the Padma Shri, the highest civilian honour awarded by the Indian government, for their work in feminist publishing. |
Under the People Tree :
A Meeting of Hands, Heads and Hearts

Gurpreet Sidhu and Orijit Sen
Jasleen Dhamija (Chair)

Tue. 23 August, 6.30 pm
Seminar Halls 1 & 2, India International Centre

People Tree – a tree that grew into a shop in New Delhi. A shop that is not just a shop, but also a great place to be at. Here runs an alternative book store, a magazine, a crafts store, a studio… It's a meeting ground – and of course, breeding ground too – of art, commerce and madness. People come to this tree from everywhere. To share. To buy and sell. To laugh, draw, search, read, speak out, locate, relocate. LILA PRISM 2016 brings to you the story of how some madly magical people have been joining hands, heads and hearts under this people tree for years. You hear it from the founders, Gurpreet Sidhu and Orijit Sen.

Gurpreet Sidhu is an alumnus of the National Institute of Design, and has been the 'hands-on' director of People Tree since its inception. She contributes to every aspect of its activities: crafts development, arts workshops and training, garment design, printing and dyeing, networking and interaction, support and social action…She has worked on design projects for organizations such as UNICEF, and the Gujarat State Handicrafts Development Corporation as well as for Oxfam and other NGOs and citizens' groups. Currently, she is working in a unique photographic and sociological study of a small rural community in Goa. According to her colleagues, Gurpreeet is the one who carries the spirit of People Tree across time and space – directing the present, preserving the past and envisioning the future.
Orijit Sen studied graphic design at the National Institute of Design, Ahmedabad. He has worked on several exhibitions and museum design projects in India, the UK and Russia. He also works as a freelance graphic designer, comics creator, and illustrator, in addition to functioning as the Creative Director of People Tree, which he co-founded with his wife Gurpreet Sidhu in 1990. His published works include The Rive of Stories, Imung, and the award winning collaboration Trash!  His colleagues guarantee that he brings a brilliant combination of wit, imagery, and acute social sensitivity to his multi-faceted work on comics, book covers, posters, t-shirt, and so much else!
Jasleen Dhamija  (Chair) is internationally renowned in the field of Living Cultural Traditions, Intangible Heritage, Rural Non-Farm Development and History of Textiles and Costumes. She began working in development of Handicrafts and Handlooms in India at the pioneering stage from the 50s and she continued to work for the United Nations in Iran, Central Asia, in 21 African countries, the Balkans, South Asia and South East Asia. She was also consultant to World Bank and International NGOs. She was awarded Hill Professor at the University of Minnesota, and was faculty member at the National Fashion Technology, New Delhi, and Resident at 3 Universities in Australia. She has authored several books on Textiles and Folk Arts, Women's Employment, and Income Generation, and has organised seminars, and curated exhibitions in India and abroad, including exhibitions at National Museum, Manila, Philippines and Woven Magic in Indonesia, and one on "Power Cloths of the Commonwealth" for Commonwealth Games at Melbourne in 2006 and in 2010 in Delhi. In 2000 she carried out an evaluation of UNESCO's work in Crafts in the last decade and directions for the future. Was appointed President of Jury for UNESCO's Award for Creativity in Textiles, over the past few years. She was Editor of Volume IV of the World Encyclopedia of Dress and Fashion on South Asia & Southeast Asia, President of International Festival of Sacred Arts, Delhi, Co-Chairperson for Handloom Development Working Group for 12th Plan Planning Commission etc.
Kochi Muziris Biennale :
A Cultural Investment in Diversity

MA Baby, Riyas Komu, Venu Vasudevan

Tue. 30 August, 7 pm
Gulmohar Hall, India Habitat Centre

The Kochi-Muziris Biennale is a project in appreciation of, and education about, artistic expression and its relationship with society. KMB has succeeded in initiating a cosmopolitan dialogue for a new aesthetics and politics rooted in the Indian experience, but receptive to other worlds. It is today establishing itself as a centre for artistic engagement in India by drawing from the rich tradition of public action and public engagement in Kerala, towards building a new society that aims to be liberal, inclusive, egalitarian and democratic. The time has come to relate the story of its institutional practices through the artistic, administrative and political voices that have been instrumental in setting up this space that seeks to project the new energy of artistic practices in the subcontinent.

MA Baby is a Polit Bureau Member of Communist Party of India (Marxist). He is known for nurturing a unique space of activism in his home state of Kerala by bringing together various actors and agencies from institutional spaces, parliamentary politics and cultural domain. He was very active in Manaveeyam, the new millennia cultural mission  started by the Government of Kerala during 1999-2000. He was awarded the first Arjun Singh Award for the promotion of culture by Abhinav Rangamandal in 2013. He was a Member of Parliament (Rajya Sabha) for 12 years, and a Minister in the Government of Kerala holding the responsibilities of Education and Culture (2006-2011). During this period, under his leadership, for the first time in India, for practitioners of Culture a welfare fund board was set up in Kerala through legislation,  the international short and documentary film festival of Kerala was launched and the  international theatre festival of Kerala was initiated.  He represented the Kundara Assembly Constituency in Kerala as Member of Legislative Assembly (MLA) during 2006-2016. He founded the prominent cultural organisation, SWARALAYA, and has also been the prime mover of the Kochi-Muziris Biennale.
Riyas Komu is a multi-media artist and activist working towards reviving art education and developing art infrastructure in India. His works have been exhibited extensively in India and abroad. He was one of the two artists from India chosen by Robert Storr for the 52nd Venice Biennale. He co-founded the Kochi Muziris Bienalle in 2012, and initiated segments such as Children's Biennale, Students Biennale, and Artists Cinema. He is currently working as Director of Programmes for the Kochi Biennale Foundation and developing projects focusing on Art Education in India. In October 2015, Art Review ranked Riyas Komu and Bose Krishnamachari among the 100 most influential people in the art world.
Venu Vasudevan is the Principal Secretary of Tourism in Kerala with the additional charges of the departments of backward classes and SC/ST development. A1990-batch IAS officer of the Kerala cadre, he is well known for the paradigm shift he had brought to management of the National Museum when he was its Director General. Drawing on his rich pool of relevant experience, he devised many 'visitor first' strategies, which resulted in a 60 per cent footfall increase at the museum during his two-year tenure. A former joint secretary in the Ministry of Culture, he has had successful stints in the Department of Tourism, Kerala, as well the Tourism Ministry of India, earlier too. He played an important role in the 'Incredible India' campaign, and was instrumental in initiating the Kochi-Muziris Biennale. An active thespian, Venu still performs with his theatre group Abhinaya.
September
The Dynamics of Cultural Conservation :
Institution-Building Practices at BDL Museum and INTACH

Tasneem Mehta
Jyotindra Jain(Chair)

Sat. 17 September, 7 pm
Gulmohar Hall, India Habitat Centre

Dr Bhau Daji Lad Museum is a Museum about Museums. It has survived almost exactly as it was when first established in the middle of the 19th century as the Victoria and Albert Museum. It tells us how museums were first conceived and presented, and about the early objectives and aspirations. The restoration that INTACH completed in partnership with the Jamnalal Bajaj Foundation and the Municipal Corporation of Greater Mumbai has made every effort to retain the original character while at the same time introducing the latest technology to enhance the quality and performance of the institution.  Tasneem Mehta presents the intertwined stories of the BDL Museum and INTACH, having known both their lives inside out. And she points to the need and methodology to build strong institutions in the culture sector.

| | | |
| --- | --- | --- |
| Tasneem Zakaria Mehta is an art historian, writer, curator, designer and museum expert, and has successfully pioneered the revival and restoration of several of Mumbai's important cultural sites. In 2010, she was elected Vice Chairman of INTACH, the Indian National Trust for Art and Cultural Heritage and has been the Convenor of the Mumbai Chapter and member of the Governing Council since 1996. Since 2003, she has been the Managing Trustee and Honorary Director of the Dr. Bhau Daji Lad Museum, Mumbai City Museum, (the erstwhile Victoria and Albert Museum) which won the prestigious UNESCO 2005 Asia Pacific 'Award of Excellence' for Cultural Conservation. She has been a Non-Executive and Independent Director at Wockhardt Ltd. since September 30, 2014. She studied Fine Arts and Design at the Sir J. J. School of Art, Mumbai. She holds an undergraduate degree in Political Philosophy from Columbia University, New York, a master's degree in English from the University of Delhi, and a postgraduate diploma in Art History from London. | | Jyotindra Jain is the former Director of the National Crafts Museum, Professor and Dean at the School of Arts & Aesthetics, Jawaharlal Nehru University, and Member Secretary of the Indira Gandhi National Centre for the Arts. He was a Visiting Professor at Harvard University and a Rudolf-Arnheim Visiting Professor at Humboldt University in Berlin. Besides being an eminent scholar and curator, Prof. Jain, both as builder of several cultural institutions in India as well as an insightful critic of cultural policy and institutional histories of the country, has developed alternative perspectives on the subject. Presently Trustee-Director of Sanskriti Foundation and Founder Trustee and Director of CIVIC: Centre for Indian Visual Culture was Director of Crafts Museum, New Delhi. |
Jana Natya Manch :
Shaping a Pocket (of Resistance)

Moloyoshree Hashmi and Sudhanva Deshpande

Thu. 22 September, 6.30 pm
Seminar Halls 1 & 2, India International Centre

Jana Natya Manch (People's Theatre Front; Janam for short), the New Delhi-based amateur theatre company specialises in left-wing street theatre in Hindi. It was founded in 1973 by a group of Delhi's radical theatre amateurs, who sought to take theatre to the people. Janam collects donations from viewers after each performance and funds its future work. As a matter of policy, the group does not accept donations or grants from state, corporate or NGO agencies. The company does street as well as open-air proscenium performances, and organises talks, discussions, workshops, exhibitions, film shows, etc. This group of self-trained actors has done over 8,500 performances of nearly 80-odd street plays and 16 proscenium plays in about 140 cities in India. The company has performed outside India once, in spring 2007, when they toured the United States, performing, lecturing and conducting workshops on several university and colleges campuses.

| | | |
| --- | --- | --- |
| Moloyashree Hashmi has been engaged in theatre for the last forty-five years, and is currently President of Jana Natya Manch, a radical political theatre group based in New Delhi. She has been involved in the creation of more than 80 street plays and has more than 6,500 performances to her credit. She has been involved in the formation of the Studio Safdar Trust, Shadi Khampur and is the Secretary of the Trust. A school teacher by profession, she has worked in the field of elementary education for over forty years as a school teacher, teacher-educator and as a curriculum consultant. She has written several textbooks and evolved new educational material. She has extensively used theatre as a pedagogic tool in the classroom and explored the interface of the Arts and Education. She has been associated with the Theatre Practicum of the Bachelor of Elementary Education (Delhi University) from its planning stages, and has conducted the Practicum for the student-teachers for nearly twenty years in many colleges. | | Sudhanva Deshpande is an actor and director with Jana Natya Manch (Janam), a radical political theatre group based in New Delhi. He has been involved in the creation of dozens of street, proscenium and other performances, and has lectured and led workshops in institutions across India, as well as in Palestine, South Africa, Germany, Poland, the US and UK. He has held teaching positions at the National Institute of Design (Ahmedabad) and the AJK Mass Communication Research Centre (Jamia Millia Islamia, New Delhi). He writes on theatre and politics, and has edited Theatre of the Streets: The Jana Natya Manch Experience (Janam 2007) and co-edited Our Stage: The Pleasures and Perils of Theatre Practice in India Today (Tulika 2009). He has co-directed two documentary films on Naya Theatre and Habib Tanvir (available from Magic Lantern Films). He is a member of the Core Team of the India Theatre Forum, and has been involved in the creation and teaching of India's first capacity building training course for theatre, SMART. Since 1999, he has headed LeftWord Books, an independent publishing house, as Managing Editor, as well as May Day Bookstore and Cafe since 2012. He has been involved in the conceptualisation, creation, administration and programming of Studio Safdar, Shadi Khampur. |
Home and the World :
1, Shanti Road

Suresh Jayaram
Gayatri Sinha (Chair)

Thu. 29 September, 7 pm
Gulmohar Hall, India Habitat Centre

1Shanthiroad, Bengaluru, is an art space founded by Suresh Jayaram that nurtures creativity and cutting edge art practice, situated in the centre of the city. The Studio/Gallery at 1Shanthiroad provides space for slide lectures, small conferences, installations, performances, screenings and informal gatherings. It is administered by a not- for- profit trust VAC –Visual Art Collective. Since its inception in 2003 1Shanthiroad has grown to house artists from diverse countries in its residency programmes. Through 13 vibrant years 1 Shantiroad has broken new ground, nurtured new and old talent, and triggered meaningful engagements with visual art.

| | | |
| --- | --- | --- |
| Suresh Jayaram is an artist, art historian, arts administrator and curator from Bangalore. He is the Founder, Director of Visual Art Collective/1.Shanhtiroad Studio an international artist's residency and alternative art space in Bangalore, India. He is currently involved in art practise, urban mapping, archiving, curation and arts education. His keen interest in environmental and urban developmental issues influences his work. He taught Art History at Karnataka Chitrakala Parishat, the College of Fine Arts in Bangalore and later went on to become the Dean from 2005-2007. He obtained his BFA in painting from the College of Fine Arts,Karnataka Chitrakala Parishat 1990 and MFA from M.S.University, Baroda in 1992 in Art Criticism. Some of his significant work has included- 2012- Curator for Colombo Art Biennale 2012, Colombo, Sri Lanka 2011- Research, curated exhibition and compiled monograpgh for the 'Krumbiegel Project' -A public history/art project that included research, documentation and exhibition that looked at the life of Gustav Herman Krumbiegel a German horticulturist and urban planner of significance in South India. 2010-Curator for 'Sethusamudram Project' – 3 year collaborative art project initiated by Theertha International Artists Collective, Colombo, Sri Lanka and 1.Shanthi Road Studio/Gallery, Bangalore, India that seeks to collectively develop and envision programmes to engage with and address the highly complex and variegated history and emotions surrounding the relations between India and Sri Lanka 2010- Art Think South Asia fellow in arts administration, Sculpturen Park, Berlin 2010-07- Coordinated the South Asian residency for KHOJ as a founder of 1Shanthiroad Studio 2008- ANA-Artist Network Asia grant to curate a multidimensional show called REWA, to acknowledge and celebrate the culture of Tibetans in exile in India. 2004- British Council Charles Wallace India Trust award to work as an artist at the Gasworks Studios, London. 2004-05-Working committee of Khoj International Artists Association to organize international artists Residency in Mysore and Bangalore. | | Gayatri Sinha is a critic, editor and curator who works in the domains of gender, lens-based art, and cultural politics. She has edited Voices of Change: 20 Indian Artists (Marg 2010), Art and Visual Culture in India 1857- 2007 (Marg Publications, 2009); Indian Art: an Overview (Rupa Books, 2003); Woman/Goddess (1998); Expressions and Evocations: Contemporary Indian Women Artists of India (Marg Publications, 1996]. She has written monographs on the artists Krishen Khanna and Himmat Shah. As a curator she has worked within museums and institutions in India and abroad including the National Gallery of Modern Art, the National Museum, the Grand Curtius and Musee Ansembourg Belgium, the Newark Museum and Minneapolis Institute of Art, in the USA, the Fotographie Forum Frankfurt, among others. She has lectured widely on Indian art and its social contexts. Since 2011, she directly supports knowledge in the arts in institutional and non institutional spaces through her initiative Critical Collective. Her website criticalcollective.in is the first such art archive and newsmagazine on Indian art. Critical Collective has collaborated with the Bhau Daji Lad Museum on an 18 month long video program, and is engaging with C-MAP MoMA on a research project on Indian art. |
October
Festivals and Beyond :
Offstage with Namita Gokhale, Sanjoy Roy and William Dalrymple

Namita Gokahle, Sanjoy Roy, and William Darlymple
Alka Pande (Chair)

Fri. 7 October, 6.30 pm
Seminar Halls 1 & 2, India International Centre

Festivals and Beyond is an offstage conversation that reveals the passion that drives three extraordinarily creative people who believe in interconnections of people and ideas. In the wake of the success of the Jaipur Lit Fest, Namita Gokhale, Sanjoy Roy and William Darlymple have become household names in the Indian cultural scene. At LILA PRISM, they share their experiences not only of literary and cultural organization in India and abroad, but also their own individual pursuits as creative artists. Join them as they engage in a heart to heart conversation with the equally versatile Alka Pande.

| | | |
| --- | --- | --- |
| Namita Gokhale is a writer, publisher and festival director. She is the author of thirteen books including seven previous works of fiction. Her debut novel, Paro: Dreams of Passion, first published in 1984, created a furore due to its frank sexual humour. Other books include, Gods, Graves and Grandmother, Shakuntala: the Play of Memory, Priya In Incredible Indyaa, The Habit of Love, The Puffin Mahabharata, In Search of Sita, The Book of Shiva, Mountain Echoes and the edited anthology, Travelling In, Travelling Out. The Himalayan series, continued in the forthcomingThings to Leave Behind, includes A Himalayan Love Story, The Book of Shadows and Himalaya: Adventures, Meditations, Life co-edited with Ruskin Bond to be published shortly. Gokhale is a founder and co-director of the Jaipur Literature Festival and 'Mountain Echoes', the Bhutan Literature Festival. She is director of Yatra Books, a publishing house specialised in translation. | | Sanjoy K. Roy is the Managing Director of Teamwork Arts, which produces over 25 highly acclaimed performing arts, visual arts and literary festivals across 40 cities in countries such as Australia, Canada, Egypt, France, Germany, Hong Kong, Italy, Israel, Korea, Singapore, South Africa, Spain, UK and USA, and includes the world's largest literary gathering — the annual Jaipur Literature Festival. He has also produced and directed over 1000 hours of TV and film. He is a founder trustee of Salaam Baalak Trust, working to provide support services for street and working children in the inner city of Delhi where over 55,000 children have benefitted from education, training and residential services. The White House recently presented him the US President's Committee of Arts and Humanities Award for an international organisation. He serves as an advisor for the arts and diversity for numerous government and non-governmental organisations across the world. |
| William Dalrymple is the author of nine books about India and the Islamic world, including City of Djinns (Thomas Cook Travel Book Award and Sunday Times Young British Writer of the Year Prize), White Mughals (Wolfson Prize for History and SAC Scottish Book of the Year Prize), The Last Mughal (Duff Cooper Prize and Crossword/ Vodafone Award for Non-Fiction) and Nine Lives: In Search of the Sacred in Modern India (Asia House Literary Award). He recently curated a major show of Late Mughal art for the Asia Society in New York, Princes and Painters in Mughal Delhi 1707-1857. His latest book is Return of a King: The Battle for Afghanistan 1839-42. He also writes regularly for The New Yorker, the New York Review of Books and the Guardian, and is one of the founders and a co-director of the Jaipur Literature Festival. He has honorary doctorates of letters from the universities of St Andrews, Aberdeen, Bradford and Lucknow, and is a visiting fellowship at Princeton. | | Alka Pande (Chair) is an art historian who taught Indian Arts and Aesthetics at Panjab University for more than ten years. Her major fields of interest are gender identity and sexuality, and traditional arts. Dr Pande, under the aegis of the Charles Wallace India Trust, conducted postdoctoral research in critical art theory at Goldsmiths, University of London. In 2006, she was awarded the Knight of the Order of Arts and Letters- an honour bequeathed by the French government to recognize significant contributions in the fields of art and literature. In 2009, she received the Australian-India Council Special Award for her contribution to Indian art. In 2015, she was awarded L'Oreal Paris Femina Women under Design and Arts and Chandigarh Lalit Kala Akademi honours-in recognition of the distinguished contribution to art- with Amrita Sher-Gil Samman. Dr. Pande has been passionately involved with the world of art for more than three decades. She has been responsible for curating several significant and perceptive exhibitions in India and abroad. Her curatorial projects include the exhibitions, The Tree from the Seed at the Henie-Onstad Art Centre, Oslo; India Awakens Under the Banyan Tree at the Essl Museum, Vienna; and The Kama Sutra: Spirituality and Eroticism in Indian Art at the Pinacotheque, Paris, to name a few. Dr Pande is closely involved with South Central Zone Cultural Centre unique initiative project titled Documentation of Tangible and Intangible Cultural Resources. In the capacity of a curator, Dr Pande will hold an exhibition titled Tat Tvam Asi (That Thou Art) at IGNCA to showcase traditional arts, creative photographs, video installations which were produced during a month long art camp at the Simhastha Kumbh, Ujjain (2016). Dr Pande is responsible for setting-up museums: Divine Gesture, Udaipur City Palace, Kanha Museum, Singinawa. She has written extensively on Indian aesthetics and culture, some of her prominent books include Ardhanarishvara the Androgyne: Probing the Gender Within, The New Age Kama Sutra for Women, Shringara: The Many faces of Indian Beauty, Body in Indian Art (forthcoming). Currently, Dr Pande is a consultant art advisor and curator of the Visual Arts Gallery at the India Habitat Centre in New Delhi (India). |
Dastkar :
Crafting Lives

Laila Tyabji
Ritu Sethi (Chair)

Sat. 22 October, 7 pm
Gulmohar Hall, India Habitat Centre

DASTKAR is a non-Governmental organisation created to act as a bridge between the urban consumer and the traditional Indian crafts person. It offers producer services, guidance and training in product development, organisation and management; and credit, design and marketing support.
Apart from direct assistance to over 700 craft communities in 25 States all over the country comprising approximately 1,00,000 artisans, DASTKAR's objective is to lobby and create an awareness of craft and craft-related issues in the consumer, the media and policy makers. Craftspeople comprise India's 2nd largest employment sector, estimated at approximately 20 million, many of them women.

| | | |
| --- | --- | --- |
| Laila Tyabji is a designer, writer, founder-member and Chairperson of DASTKAR, a Society for Crafts and Craftspeople. She has worked in the Crafts and Development sector since 1978. She received the Padma Shri for her work in 2012. In 2003, she was the first Asian recipient of AID TO ARTISANS Preservation of Craft Award in New York. Laila has served as member on National Committees and Advisory Boards on Handicrafts, the small scale industry sector, Khadi, culture and design. Working in 29 states, with 700 grassroots producer groups, and over 1 lakh artisans all over the country, her organization DASTKAR, strongly believes craft and alternative sector as an enormous social, cultural and economic force. It has helped craftspeople, especially women, use their inherent skills to gain financial independence. The Nature Bazar, created by DASTKAR is a curated marketing platform for over a hundred craft groups. She studied art at MS University Baroda and Toshi Yoshida Studio in Japan, and worked as an artist and designer before DASTKAR. | | Ritu Sethi (Chair) is the editor of the largest online encyclopedia on the traditional art, craft and textile heritage of South Asia –www.asiainch.org in addition she serves as a Director at the Craft Revival Trust. She has edited several publications including 'Embroidering Futures- Repurposing the Kantha'; 'Designers Meet Artisans – A Practical Guide', and written numerous essays in journals and newspapers. Her book on the Patachitra Patuas of West Bengal is expected shortly. She serves as an advisor on national and international policy groups on culture, crafts and heritage. |
November
Nation, Institutions and Excellence :
A Short History of Indian University in the Twentieth Century

Rakesh Batabyal
Rupamanjari Ghosh (Chair)

Tue. 15 November, 6.30 pm
Seminar Halls 1 & 2, India International Centre

Jawaharlal Nehru University, known popularly as JNU, is one of india's premier institutions of higher learning. Rakesh Batabyal in this LILA PRISM Lecture explores the life of an Indian university, from its conception to the period when the institution was entering its phase of major transition. He brings to life the intricate web of relationship between the founding principles of a university, contemporary politics and society, and the historical trajectories of indian intellectual and institutional lives.

One of the leading historians of contemporary India, Rakesh Batabyal teaches history and theory of media at the Centre for Media Studies in the School of Social Science, Jawaharlal Nehru University in New Delhi. Rakesh Batabyal's books Communalism in Bengal: From Famine to Noakhali (1943-47), Sage ( 2005); The Penguin Book of Modern Indian Speeches Penguin (2007) and JNU the Making of A University, HarperCollins, ( 2014) have been widely used and discussed. He was the Inaugural India Chair Professor,Tokyo University in 2010 and has been working on the issues of Media, Nationalism and the idea of well being in India and Eastern Europe.

His other recent works includes India in the normative universe  ( Does Fairness Matter',  Brookings Institution, Washington D.C, 2010); Hindu Communal Challenge, 1964-84 ( Centnerary History of Indian National Congress, Vol.V, ed. By Aditya Mukherjee, Academic Foundation, 2011), 'Gender, State and Women's Activism', in Gender and Contemporary Activism, Marta Warat, ed. Jagellolian University, Poland, 2011); Contemporary History of Comumunication,  (Kolkata, 2013)

Batabyal tries to link contemporary indian history to the intricacies of global poltics and history is also reflective of in his recent engagment in teaching History of Media in 19th and 20th century India.

Rupamanjari Ghosh (Chair) is a researcher, teacher, orator and an academic administrator par excellence. Professor Ghosh has B.Sc.(Physics honors) and M.Sc.(Physics) degrees from the University of Calcutta, and a very well-recognized Ph.D. from the University of Rochester, NY, where she worked as a Rush Rhees Fellow, chosen for "outstanding scholarly ability and the promise of exceptional contributions to scholarship and teaching." Her research interests are in Experimental and Theoretical Quantum Optics, Laser Physics, Nonlinear Optics, and Quantum Information. Her pioneering work with Prof. L. Mandel on two-photon interference (using the nonlinear optical process of spontaneous parametric down-conversion) has yielded a new direction in quantum optics and quantum information, in the creation and use of a source of entangled photon pairs, and of single photons, at the forefront of research today. Professor Ghosh is a former Dean, School of Physical Sciences at Jawaharlal Nehru University, New Delhi, where she had held many other important academic and administrative positions. She has held several Visiting Faculty / Scientist positions on invitation abroad, and delivered numerous invited research seminars in India and abroad. Recipient of the Stree Shakti Science Samman for her "original contribution to Science", she serves as an expert in crucial DST (Government of India) committees in Physical Sciences, and in many Central and State universities and institutes. She has also served as the Chief Advisor for the National Council of Educational Research and Training (NCERT) Science textbooks for Classes IX and X, developed afresh under the National Curriculum Framework-2005. She is currently the Vice-Chancellor of Shiv Nadar University from 1 February 2016.
Toxics Link and Beyond :
Environmentalism at the Intersection of Nature and Culture

Ravi Agarwal
Jeebesh Bagchi (Chair)

Mon. 21 November, 7 pm
Gulmohar Hall, India Habitat Centre

Toxics Link is a group of people working together for environmental justice and freedom from toxics. They have taken it upon themselves to collect and share information about the sources and dangers of poisons in our environment and bodies, as well as about clean and sustainable alternatives for India and the rest of the world. For the organisation's Founder, Ravi Agarwal, Environmentalism is at the intersection of nature and culture—and in his searches art converges with science towards creating a unique take on the environment.

| | | |
| --- | --- | --- |
| Ravi Agarwal is an artist, environmental activist, writer and curator. He is the founder of the Indian environmental NGO Toxics Link which has pioneered work on waste and chemicals, and campaigns on conserving the river and the forest in Delhi. He serves on several high level government policy and standards committees, and writes extensively on sustainability issues in journals and books. He was awarded the UN Special Recognition Award for Chemical Safety (2008) and the Ashoka Fellowship (1997). He has pursued an art practice integrally with his other pursuits. His earlier work, in the documentary oeuvre, encompasses 'nature', 'work,' 'labour,' and the 'street.' His current interest span questions around ecology and society, urban space and capital in interrelated ways. He works with photographs, video, and public art. His work has been shown very widely internationally, including at Documenta XI, the Sharjah Biennial (2013), and Indian Highway (2009). He works and lives in New Delhi and is an engineer by training. | | Jeebesh Bagchi (Chair) is an artist and researcher with Raqs Media Collective. He co-intiated the Sarai Programme at the CSDS, Delhi in 2001. His work with Raqs has been shown in many contemporary art venues. Currently he is curating the 11th Shanghai Biennale. |
December
Dhrupad and the Sansthan : Music as Practice and Institution

Ramakant and Umakant Gundecha
(Gundecha Brothers)
Rizio Yohannan Raj (Chair)

Sat. 3 December, 7 pm
Gulmohar Hall, India Habitat Centre

The Gundechas address these questions:

Dhrupad as a ancient system of music–its origins, the places where it spread, and the reasons for this spread. What is its worldview? How did it flourish and how did it decline during various times?

How does a form of music get institutionalized? How are the schools (gharanas) and styles (banis) formed? What are the mentoring and transferring practices?

Should one need to follow a gharana's practices in order to be recognized? What is the balance between tradition and freedom of expression by an individual practitioner?

How important is it for the two of them to sing together? Are there some other influences on each of them outside the Dhrupad system?

What are the facets of their work at Dhrupad institute and the Gurukul? Why did they set it up? Where do they see it going?

How important are words in music? Is music beyond words and their meaning? If the foreign students do not get the correct pronunciation or tone or internal mood, how do they negotiate that?

How important is patronage in developing music? Can music be always dependent on patronage and sponsorship? Is there another way of making music a community experience? Is there a sustainability model?

Do they see their practice of music as having any social content–can it change a society? Is there anything like that in the history of our music where music has changed a people and their mindset, or helped change a social situation?

| | | |
| --- | --- | --- |
| Ramakant and Umakant Gundecha Ramakant and Umakant Gundecha are the leading exponents of the Dhrupad style of music. They are among the most active performers in Indian and international circuits. They were conferred "Padmashri" in 2012 by the Govt. of India for their contribution in the field of Dhrupad and Indian Classical Music. Born in Ujjain in Central India, both were initiated into music by their parents. Gundecha Brothers received conventional university education and learned the Dhrupad vocal art under the renowned Dhrupad vocalist Ustad Zia Fariduddin Dagar and also with Ustad Zia Mohiuddin Dagar (the distinguished performer of Rudra Veena) under guru shishya paramapara in Dhrupad Kendra Bhopal. The Gundecha Brothers have sung great Hindi poetry by Tulsidas, Kabir, Padmakar, Nirala in Dhrupad style . They have recorded about 50 cassettes and CDs by H.M.V, Music Today, Rhythm House, Times Music, Sony, Senseworld Music, Sundaram Records, IPPNW Concerts Berlin, Navras and Audio Rec London. | | They have also sung for many television channels in India and have been broadcasted on British, U.S., German and French, Japan and Australian Radio as well. As well as being an integral part of all of India's prestigious music festivals, the Brothers have also performed and conducted workshops at many important international music festivals and institutions in about 25 countries in Eope, U.S.A, Australia, Japan, Egypt, Singapore, Bangladesh, U.A.E and Hongkong. They have received M.P. Govt. Scholarship from 1981 to 1985, National Fellowship from 1987 to 89, Ustad Allauddin Khan Fellowship in 1993, Sanskriti Award in 1994 and Kumar Gandharva Award in 1998 by Govt. of Madhaya Pradesh and Dagar Gharana Award by Mewar Foundation in 2001. Rajat Kamal – National Film Award for the Best Music Direction ( 2006), Puttaraj Gawai Award 2010 from Puttaraj Gawai Pratishthan, Dharwad. |
Health, Gender and Sexuality : The Naz Foundation Story

Anjali Gopalan
Indrani Gupta (Chair)

Thu. 8 December, 7 pm
Gulmohar Hall, India Habitat Centre
Technology, Management and Institution-Building

G Vijaya Raghavan

Sat. 17 December, 6:30 pm
Seminar Halls 1 & 2, India International Centre