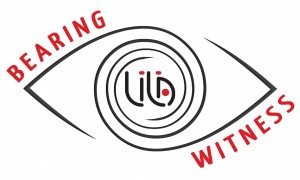 LILA Bearing Witness is the cultural banner of LILA. It is the testament of our faith in the power of cultural expressions to become peacemaking functionaries. It upholds the fine balance between silence and speech, gravity and lightness, participation and witnessing. But, in order to thus bear witness, it must listen, before it starts to speak…
We thank Sadanand Menon, cultural critic, who forged the platform name Bearing Witness, during a programme held at SPACES, Chennai in collaboration with the Sahitya Akademi. On April 15, 2012, BEARING WITNESS: An Uprising of Words brought together poets, journalists, theatre artistes and cultural activists to one space to read, interact and collaborate. Our cultural banner draws from the spirit of that proto-event.

When the Bird Became a Wave…
A Journey with Kumar Shahani
documentary screening and conversation
Friday 1 May 2015
5:30-7:30 pm
The University of Chicago, Center in Delhi
DLF Capitol Point, Baba Kharak Singh Marg
Near Connaught Place
Metro: Rajiv Chowk, exit by Gate 7
When The Bird Became a Wave…
Documentary | 72 min | 2014
Direction: MR Rajan
Script: V. Sasikumar
Digital Recording: Sunny Joseph
Edit: Vijeesh
Production: Cinematograph Kerala
MR Rajan's docu-film on noted filmmaker Kumar Shahani, When the Bird Became a Wave… is a beautiful tribute to the great director by a sensitive artist. Rajan has interpreted Shahani's life, work and words with great understanding and imagination. The film is a journey with Shahani across Kerala, which was recorded through a span of four years, from 2010. Kumar discusses history, cinema, music, performing arts, politics, the growth of the market, traditional trade relationships across the country and the globe. He examines the human survival through the eyes of philosophy. Knowledge against the military-industrial complex, creativity against oppressive systems and establishments — Kumar's eternal concern continues as a debate and an argument throughout the film. The film has been recorded and treated in a very personal style. Translating Shahani's exquisite aesthetic for the cinematic medium, Rajan has at once enriched it with the lucidity of moving images and sounds, and the gravity of a serious reflection. It speaks to us without speaking, and keeps its splendid silence through the words it employs.
The screening will be followed
by a Question and Answer session
with Kumar Shahani and MR Rajan,
moderated by Rizio Yohannan Raj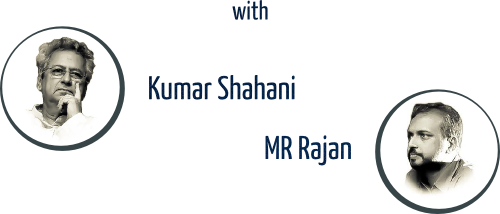 Kumar Shahani is one of the pioneers of the New Indian Cinema. He is best known for his works in parallel cinema, Maya Darpan (1972) Khayal Gatha (1989) and Kasba (1990). Due to his dedication to the aesthetic form, and with the reputation of his first feature, Maya Darpan being considered Indian cinema's first formalist film, he is frequently grouped by critics and film enthusiasts alongside Pier Paolo Pasolini, Andrei Tarkovsky, and Jacques Rivette. Shahani held a Homi Bhabha Fellowship to study the epic tradition of the Mahabharata, Buddhist iconography, Indian classical music and the Bhakti movement. Shahani considers Roberto Rossellini and Robert Bresson as major influences on his work and those who he learned the most from.
MR Rajan is a documentary filmmaker of repute. He graduated from the Film and Television Institute of India, Pune and holds a degree in Philosophy from the Sree Kerala Varma College, Trichur. He has made several films on the history, tradition and future of the performance arts of Kerala. Chhaaya (Shadows) (1991) looks at shadow puppetry and the visual continuity of Kerala imagery through the ages. Chenkallillil oru Sankeerthanam (Psalm in Laterite Stone), made in 1991, was a video on the sculptures of Shilpi Rajan. Continuing his work with performance artists embedded in a long tradition of practice, he made Pakarnnaattam in 1995. The film explores sounds and images of the ancient form of Sanskrit theatre Koodiyattam through one of its most important exponents – Ammannur Madhava Chakyar. In 1999, MR Rajan won the National Film Award for Best Biographical Documentary among several other awards for Nottam (Gaze), a film on the veteran Kathakali performer Sri Kizhpadam Kumaran Nair. Rajan made another portrait of a performance artist in the film Minukku (Incandescence) made in 2006, reframing visually the veteran Kathakali performer and specialist in female roles, Kottakkal Sivaraman. It won the Best Documentary film award from the Indian Documentary Producer's Association (IDPA). His most recent film, Cinemayude Kalpadukal (Foot Prints of Cinema), is a long video that traces the spirit of the Malayalam film industry in the sixties and seventies through conversations with the veteran film producer Shobana Parameswaran Nair.

Alankar : An Aesthetician's Trail
4 and 5 May 2015
2 days of Film Screenings and Conversations
on the Aesthete's Quest
in collaboration with

Alankar : An Aesthetician's Trail, a unique programme of screenings and conversations, evokes 'Alankar', the figure for 'ornamentation' in Indian aesthetics. Alankar thus attempts here to capture the spirit of Kumar Shahani's continuous engagement with the experience and ideal of the beautiful. MR Rajan, Shahani's student and noted filmmaker, shows in his work, a similar endeavour to understand and create art and life in subtle terms. And Sadanand Menon has been exploring the charged space linking politics and culture for several decades through his work in media, pedagogy and activism. Alankar thus bears witness to the difficult, and therefore deeply political acts of these cultural visionaries to inquire about the beautiful in the times of the obvious, even the gross.
PART 1
Monday 4 May 2015
7:00-8:30 pm
When the Bird Became a Wave…
A Journey with Kumar Shahani
Gulmohar Hall
India Habitat Centre
Delhi
Metro: Jor Bagh, JLN Stadium
When The Bird Became a Wave
Documentary | Direction: MR Rajan| 72 min | 2014

It is nearly impossible to make a film. Technology and economy… everything is helping the other; the 'objectification'. Human beings are also offering themselves as objects. I know people who sacrificed their life, for the cinema is so desperately disenchanted. How will we filmmakers overcome this? The whole creativity of a person is not being allowed. It is a very crazy situation.

– Kumar Shahani
The screening will be followed
by a Question and Answer session
with Kumar Shahani and MR Rajan,
moderated by Rizio Yohannan Raj
PART 2
Tuesday 5 May 2015
3:00-5:00 pm
Kumar Shahani: An Aesthetician's Trail
Department of Communication
Shiv Nadar University
Dadri, UP
Bus facility to SNU at 12:00 noon
from India Habitat Centre, Gate 2
As The Crow Flies…
Documentary | Direction: Kumar Shahani | 21 min | 2004
followed by
Sadanand Menon in conversation with Kumar Shahani and MR Rajan
After the first evening with a general audience, Alankar moves to an academic space. While When the Bird Became a Wave… looks at Shahani, the aesthete, As The Crow Flies… enters the aesthetic proper of the legendary filmmaker. The documentary moves into the world of Akbar Padamsee, pioneer of Modern Indian painting.
The two filmmakers converse with cultural critic Sadanand Menon, to explore how the aesthetic art, and the artist aesthete can contribute to propelling a new era of engaged living.
Sadanand Menon is a well-known art critic, cultural commentator and teacher of media. He is currently Adjunct Faculty at the Asian College of Journalism, Chennai, and at the Humanities Department of IIT, Madras. He is member of Apex Advisory Panel, National Museum, Delhi, of Apex Advisory Committee, National Gallery of Modern Art, Bengaluru, of Lalit Kala Akademi, Delhi, of the General Council, Indian Institute of Advanced Study, Shimla, and Managing Trustee of SPACES, Chennai.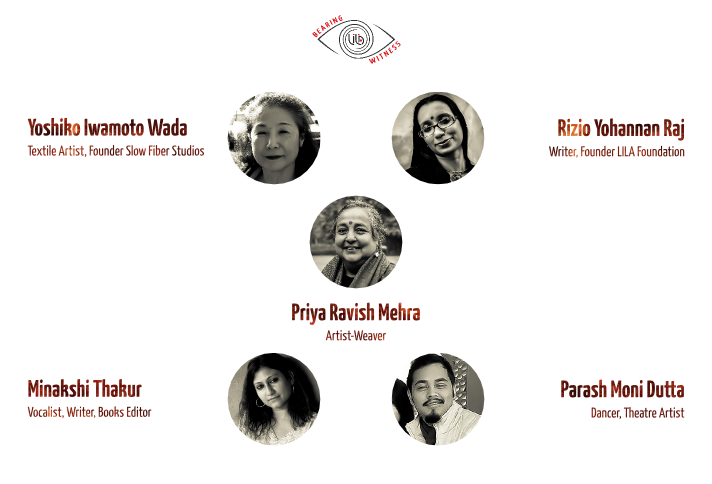 The Imperfect Cloth
an evening of conversation, song and dance
Wednesday 4 March
7:00-8:30
Amaltas Hall
India Habitat Centre
New Delhi
Metro: Jor Bagh / JLN Stadium
The evening opens up the art of Priya Ravish Mehra, artist-weaver, by delving into different aspects of her work through dance, music and words. Priya's artistic journey, from chasing the pure aesthetic in her earlier days, was transformed by a life-threatening cancer, an experience which would drastically redefine her approach to art practice.
Her extensive research into the century-old tradition of darning, which hid the defects on clothes through the meticulous care of the invisible darners, then becomes the predominant motif in her work. The art of mending damages on the cloth by the Rafoogars (darners) is reinterpreted as the act of restoring the fragility of the body and healing the wounded soul. But by then, it also becomes vital that the imperfections show on the work of art. The concept of beauty thus enlarges in scope, bringing the emphasis on detailing flaws.
Music, movements, and words weave a compelling narrative around an artist whose artworks are not only aesthetic creations but also poignant remnants of a body that underwent repair.
| | | | | |
| --- | --- | --- | --- | --- |
| | | Yoshiko Iwamoto Wada, Japanese scholar, textile artist, and Founder of Slow Fiber Studios, will also partake in the exchange and present the correlation between her practice of Boro and Priya's work. | | |
The evening will progress as follows:
Minakshi Thakur & Parash Muni Dutta
Jhini, Jhini Bini Chadariya… A song of Kabir, accompanied with a movement in dance
Rizio Yohannan Raj in conversation with Priya Ravish Mehra
Weaving an Artist
Minakshi Thakur & Parash Muni Dutta
Why are you so silent? Poetry Recital, accompanied with Dance and Enactment
Rizio Yohannan Raj in conversation with Priya Ravish Mehra
The Tearing and the Healing
Minakshi Thakur & Parash Muni Dutta
Kabir song continuation, accompanied with Dance and Enactment
Rizio Yohannan Raj in conversation with Priya Ravish Mehra
The Sharing
Presentation by Yoshiko Iwamoto Wada on Boro and its dialogues with Priya's work
Participants:
Minakshi Thakur is a Vocalist, Writer and Books Editor.
Parash Moni Dutta is a Dancer and Theatre Artist.
Priya Ravish Mehra is an Artist-Weaver.
Rizio Yohannan Raj is Writer and Founder of LILA Foundation for Translocal Initiatives.

Echoes of Silence


an evening of reading and conversations
Thursday 18 December / 6:30 pm
FSI Hall, Ground Hall
South Asian University, Akbar Bhawan,
Chanakyapuri, behind Yashwant Place,
New Delhi
Metro: INA
RSVP
Jyoti Chawala & Samson George
+91 11 24122512 | +91 11 24122513 | +91 11 24122514
LILA Foundation & South Asian University welcome you to an evening of reading and discussion with poet R Cheran and novelist Vikram Kapur, chaired by Kavita Sharma. Echoes of Silence is the second event hosted by LILA' s cultural banner Bearing Witness. The multi-layered echoes of silence resonate long after the history of a period has been written; long after its facts have been disassembled and the actions of its principal actors argued over. With words, we seek to give each echo a shape and a form. With words, we seek to reclaim the echoes of the silences teeming all around us.
The evening will progress as follows:
Welcome: Sasanka Perera (Dean, Faculty of Social Sciences, SAU)
Opening remarks: Rizio Yohannan Raj (Poet; Executive Director, LILA)
Readings:
R Cheran (Poet, University of Windsor, Ontario)
Vikram Kapur (Novelist, Shiv Nadar University, Noida)
in conversation with:
Kavita Sharma (President, SAU)
Participants:
R Cheran is one of the most influential contemporary Tamil poets and is teaching at the Department of Sociology, University of Windsor, Ontario, Canada. A native of Jaffna, Northern Sri Lanka, he contributed to the creation of the Tamil newspaper Sarinihar in the early 1990s. His publications span the fields of multi-lingual poetry, literature, history, politics and culture.
Vikram Kapur is Associate Professor of English at Shiv Nadar University. He has a Ph.D in creative and critical writing from the University of East Anglia, UK. He taught journalism and creative writing and published two novels, Time is a Fire (Srishti, 2002) and The Wages of Life (Srishti, 2004). He also has numerous short stories and articles to his credit.
Kavita Sharma is the President of South Asian University, Delhi. She taught in Hindu College, Delhi University and became its Principal in 1998. In 2008, she took over as Director of India International Centre, New Delhi. Her publications span over higher education, language, immigration and identity, culture and women. A Fullbright Fellow, she was conferred the Indira Gandhi Sadbhavana Award in 2005.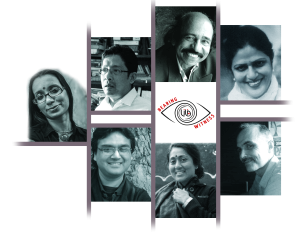 Voices in Verse


a unique multicultural poetry evening
Wednesday 6 August / 5:30 pm
Sahitya Akademi Conference Hall
Conference Hall, Sahitya Akademi, New Delhi
Metro: Mandi House
Join our Facebook event
LILA Foundation and Sahitya Akademi welcome you to Voices in Verse, organised under the banner Bearing Witness, by bringing together seven poets from diverse cultural backgrounds. They have raised their voices, often ironically inverted, in an effort to cope with our times fraught with differences that are made to appear irreconcilable. We celebrate their subversiveness as well as their capacity for dynamic co-habitation. We believe the voice of poetry rises at the right time, inspiring us to creative action.
The evening will progress as follows:
Welcome: K Sreenivasarao (Secretary, Sahitya Akademi)
Opening remarks: Rizio Yohannan Raj (Poet; Executive Director, LILA)
Keynote: Eddin Khoo (Poet; Founder, PUSAKA)
Poetry reading and conversation, chaired by K. Satchidanandan (Poet and critic)
Participants:
Anamika is a Delhi-based poet who writes in Hindi. A lecturer at the Department of English at Satyawati College, Delhi, she has five collections of poetry to her credit. Over the years, she has won numerous accolades for her literary work, including the Bharat Bhushan Award for Poetry (1996), the Girija Mathur Samman (1998), the Sahityakar Samman (1998), the Parampara Samman (2001) and the Sahityasetu Samman (2004). In addition to poetry, she has authored volumes of fiction, memoir and criticism, and undertaken translations of the works of Octavio Paz, Rilke, Rabindranath Tagore and Girish Karnad.
Eddin Khoo is one of the most important cultural activists and thinkers in today's Malaysia. A poet, writer, journalist, translator and teacher, he is the founder of PUSAKA – Centre for Culture, Tradition, Ideas – a cultural organisation dedicated to studying and preserving forms of traditional and ritual theatre. A self-described half-Chinese, half-Indian mix, the translator of Moby Dick, an expert on Islamic art, a political analyst, since 2002 Khoo has been tirelessly working to revive the tradition of Wayang Kulit, Malaysian shadow puppetry.
K Satchidanandan is one of the most widely translated of contemporary Indian poets, with 23 collections available in 19 languages. Writing in Malayalam and English, he has also authored several books that include plays, critical works, translations and travelogues. He has introduced writers from Black, Latin American, European and Indian poetry to Malayalam readers, such as Neruda, Block, Vallejo, Brecht and Celan. He was Editor of Indian Literature, the journal of the Sahitya Akademi and the executive head of the Sahitya Akademi between 1996 and 2006. He is a Fellow of the Kerala Sahitya Akademi and has won a variety of literary awards and fellowships. He has represented Indian poetry at a number of forums and festivals across the world..
Michael Creighton is a poet from Portland, Oregon. He is now settled in Delhi with his partner and three children and works as a middle school teacher. He is interested in the beauty and ugliness that surrounds us – and what these images reveal about ourselves, our neighbors, and the spaces we share. Most days, he commutes by cycle, metro or DTC bus, so he asks you to kindly refrain from driving your car or motorbike in lanes designated for public transportation or non-motorised vehicles! His works have appeared in various journals and newspapers, both in India and abroad.
Rizio Yohannan Raj is a bi-lingual writer, translator, and educationist. Her works include three collections of poetry in English: Eunuch (2010), Naked by the Sabarmati and Other Guna Poems (2012) and Exchanges with the Thinker (2013). She is also the author of two novels in Malayalam (Avinasom and Yatrikom), the first of which is translated into English as A Tale of Things Timeless (2012). She has translated and introduced major 20th century Malayalam writers into English, including the works of Kumaran Asan, the pioneer of modern Malayalam poetry. Rizio is the Founder and Executive Director of LILA.
Sudeep Sen is internationally recognised as a major voice of the new generation of world literature. Sen's prize-winning books include: Postmarked India: New & Selected Poems (HarperCollins), Distracted Geographies, Rain, Aria (A K Ramanujan Translation Award), Ladakh, and The HarperCollins Book of English Poetry (editor). Blue Nude: New & Selected Poems | Translations 1979-2014 (Jorge Zalamea International Poetry Prize) is forthcoming from Partridge | Penguin Random House. His poems, translated into twenty-five languages, have featured in major international anthologies. He is also a widely published photographer and graphic artist. Sen is the first Asian to be honoured with an invitation to participate at the 2013 Nobel Laureate Week in St Lucia, where he delivered the Derek Walcott Lecture and read his own poetry. The Government of India's Ministry of Culture awarded him the senior fellowship for "outstanding persons in the field of culture".
Vanita is a poet, literary critic, translator and a lecturer in Punjabi. The author of more than forty texts, among which her latest monograph, Bhartiya Sahitya ke Nirmata: Sutinder Singh Noor (Sahitya Akademi, 2013). Vanita has received a number of awards, including the Criticism Award of the Punjabi Academy in 2001, the IAPAA Award in 2007, the Sahitya Akademi Translation Award in 2009, the Poetry Award of the Punjabi Academy in 2010 and the Sahitya Akademi Award in 2011 for her translation of  Kaal Pehar Ghariyan into Hindi. She has published works in many magazines and journals, and participated in various radio broadcasts.