LILA lumieres is the video production banner of LILA Foundation. In 2013, we screened three documentary films with powerful transformative content, each time in collaboration with other agencies to promote the medium of film. Today, we are all set to launch an online video project called The LILAight Channel, which undertakes to produce short videos on the extraordinary ideas of ordinary individuals. We hope to present these video productions as an illustration of the possibility of happiness in all walks of life. The LILA documentary and film screenings continue, under our multi-medium cultural banner Bearing Witness.

∾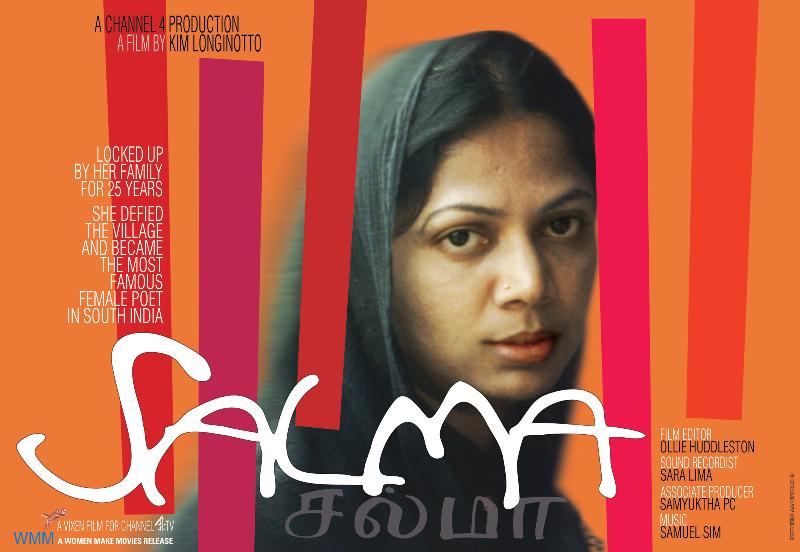 Salma: Inspiring Minds
The Many Tongues of Poetry
Poetry Reading 

|

Film Screening 

| 

Conversation
Kim Longinotto (Dir.) / Tamil with English subtitles / 2013 / 90 mins
Tuesday 15 October / 6:30 pm
Gulmohar Hall, India Habitat Centre
Join our Facebook event

Synopsis: Born into a conservative Muslim family in Tamil Nadu's Thuruvankuruchi village in 1968, the life of Rokkaih, alias Rajathi, was ordinary till she was 13. Barred from going to school, and house arrested, the girl began to write poetry and publish under the pseudonym Salma. Married at 20, and thrown into a life of near total subjugation, she slowly took charge of her existence. Today, she is one of the most well known writers in the country, and a recognized political figure in her state. From a school dropout to becoming the chairperson of the Social Welfare Board of Tamil Nadu, and being one of the most widely translated, widely travelled poet of our times, Salma captures the moving saga of the extraordinary life of an Indian woman.
Awards:
Best International Feature, Documentary Edge Film Festival, New Zealand
Best International Director, Documentary Edge Film Festival, New Zealand
Second Best Film, Audience Award, Berlinale Film Festival, Germany
German Star Of India: Best Documentary, Stuttgart Indian Film Festival, Germany
Best Film, International Human Rights Films Festival, Tunisia
Collaborations:
Movies that Matter, Amnesty International, The Hague
Your Hope is Remaining, Chennai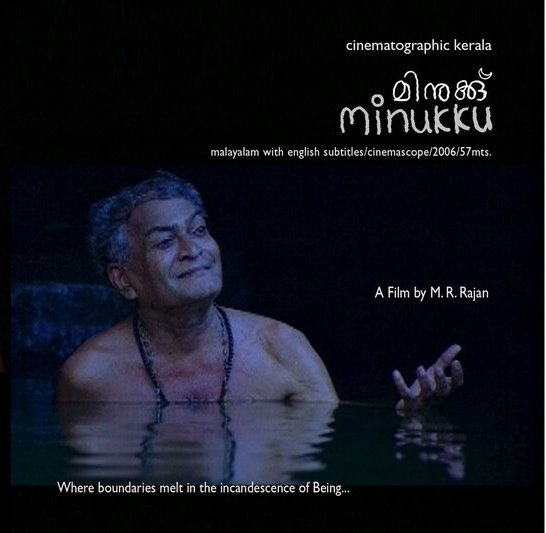 Minukku: The Reel Crossover




A Space for Exchanges and Explorations
Screening | Recital | Conversation
with Kumar Shahani, MR Rajan, EP Unny & Kottakkal Jayan
MR Rajan (Dir.) / Malayalam with English subtitles / 2006 / 60 mins
Wednesday 4 December / 7:00 pm
Gulmohar Hall, India Habitat Centre
Join our Facebook event

Synopsis: Minukku is a reel journey into the life of a Kathakali maestro, seen through the eyes of an actor and an artist. In this docu-film, actor Nedumudi Venu traces the experiences of Kottakkal Sivaraman who revolutonised the portrayal of female roles (minukku veshom) in Kathakali, while Unny's sketches capture the sculptural beauty of the latter's gestures and expressions. This film is thus a meeting ground of personalities, genders, and different art forms.
Participants
MR Rajan is the award-winning director of Minukku. He is a Chief Producer at Asianet. He has assisted veteran directors, Mani Kaul and B. Narsing Rao and has won many awards for his documentary films.
Kumar Shahani is a noted filmmaker who was largely responsible for the development of the 'New Indian Cinema' or the 'Indian New Wave' in creating an avant-garde cinema whose ideology was vastly different from the aesthetics of mainstream cinema prevalent till the seventies.
EP Unny is the Chief Political Cartoonist of The Indian Express. Apart from cartooning, he sketches and writes on contemporary issues. He has drawn and written graphic stories in Malayalam. He is the author of Spices and Souls: A Doodler's Journey through Kerala.
Kottakkal Jayan is a vocalist associated with the International Kathakali Centre, New Delhi.
Mission Rio16: An Evening for the Cause of Goonga Pehelwan
Screening & Discussion
in collaboration with Drishti

Mit Jani, Prateek Gupta & Vivek Chaudhary (Dir.) / English / 2013 / 57 mins
Wednesday 18 December / 7:00 pm
Gulmohar Hall, India Habitat Centre
Continue supporting the cause on Facebook

Synopsis: Goonga Pehelwan is a documentary that follows India's most successful deaf athlete on his unlikely quest to reach the Rio Olympics 2016. He would become only the second deaf wrestler in the history of the Olympics to do so. This is the story of Virender Singh – a captivating account of the life of an incredible athlete; an athlete largely unknown, snubbed by the bureaucracy but who is no mood to let up as he continues to wrestle on. The film asks real questions to the sporting bureaucracy in India. Bringing to light all that Singh has achieved, it hopes that even if the bureaucracy doesn't wake up to his genius, at least the people of the country will know the smile of this champion. The struggle that Virender faces outside the wrestling arena are the tougher ones, because inside the ring he is in total control and losses are few. It's the battles outside the ring that this film endeavors to make him win.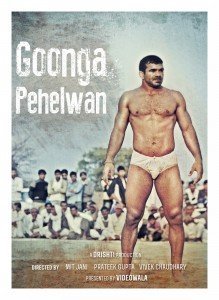 Mission Rio16 is an attempt by the filmmakers of Goonga Pehelwan to help fulfill, for a differently abled person, what is considered to be every athlete's greatest dream – the pinnacle of all sporting contest, a competition that the world witnesses only once in four years: the Olympic Games. Mission Rio16 aims to help Virender in his quest to reach the Rio Olympics 2016 by fighting the bureaucracy through a Public Interest Litigation in the Delhi High Court and trying to bring about a policy change that allows differently abled athletes to go to the Olympics with other deserving athletes.
Panel
Poonam Natarajan currently heads the National Trust (Ministry of Social Justice and Empowerment). Natarajan is a senior figure in the disability sector with over twenty years of experience. She undertook a course in Special Education from Spastics Society of India, Mumbai, in 1982, in order to teach her child who had Cerebral Palsy. Natarajan then founded Vidya Sagar in 1985, when she moved to Chennai and realised that there were no services available there for children with multiple disabilities. Vidya Sagar, which commenced operations in 1985 with only three children, now caters to over 2,000 children and young adults with cerebral palsy in a single year.
Rahul Mehra is Founder Member & Spokesperson of AAP (Aam Aadmi Party), a lawyer, sports activist & public spirited person. Mr. Mehra forced the powerful BCCI to become more transparent and has now filed a public interest litigation against almost all major sporting bodies in India, demanding that they come clean.
Major Devender Pal Singh is an international marathon runner. His journey from being brought dead from the war zone of Kargil to becoming India's first amputee marathon runner earned him the title of Indian Blade Runner. Running a marathon and representing India at the Olympics are on top of the agenda for this 37-year-old. "The day the doctors informed me that I had lost my leg, I took it as a challenge. Living like a physically challenged person was not acceptable to me," Singh said.


LILA's cultural mission includes the facilitation of an organic understanding of the act of living in our world and times. Through our translocal vision, we identify cultural expressions springing from specific earths, and nurture them so that they ramify and spread themselves into new skies. We gather eco-sensitive practices from various traditions, we create contemporary applications for those, and we collaborate with like-minded actors in various projects towards such results.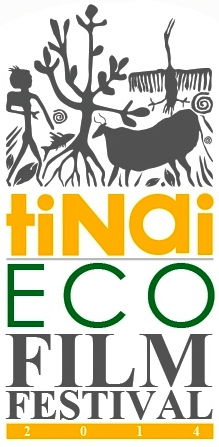 Accordingly, LILA lumieres is collaborating with the Department of Humanities, Birla Institute of Technology and Sciences, Pilani, K.K. Birla Goa Campus to organize the tiNai Ecofilm Festival on 31 January and 1 February 2014 at BITS Pilani, Goa Campus. This first annual Ecofilm Festival is organized by BITS Pilani and tiNai, a forum working on the promotion of ecocriticism in India, formerly known as OSLE-India. The Ecofilm Festival will present 50+ ecological and environmental films with insightful content to students, ecoenthusiasts, activists, journalists and filmmakers.
In the Tamil Sangam literature of the first centuries C.E., the term tinai denoted the modes used to classify poetry. In other words, tinais were devices for categorizing poetry, based on the nature, location, mood and type of relationship represented by the poems. Each tinai was vitally linked with a particular landscape and the imagery associated with that landscape – its flora, fauna, people, climate and topography. These were woven into the poems in such a way as to convey specific moods.
As a publicity partner of the tiNai Ecofilm Festival, LILA considers it very significant that the organic worldview as found in the Sangam literature is being reclaimed and promoted by the festival.
Send in your entries to this unique documentary fest. Please visit the TEFF website for more details.