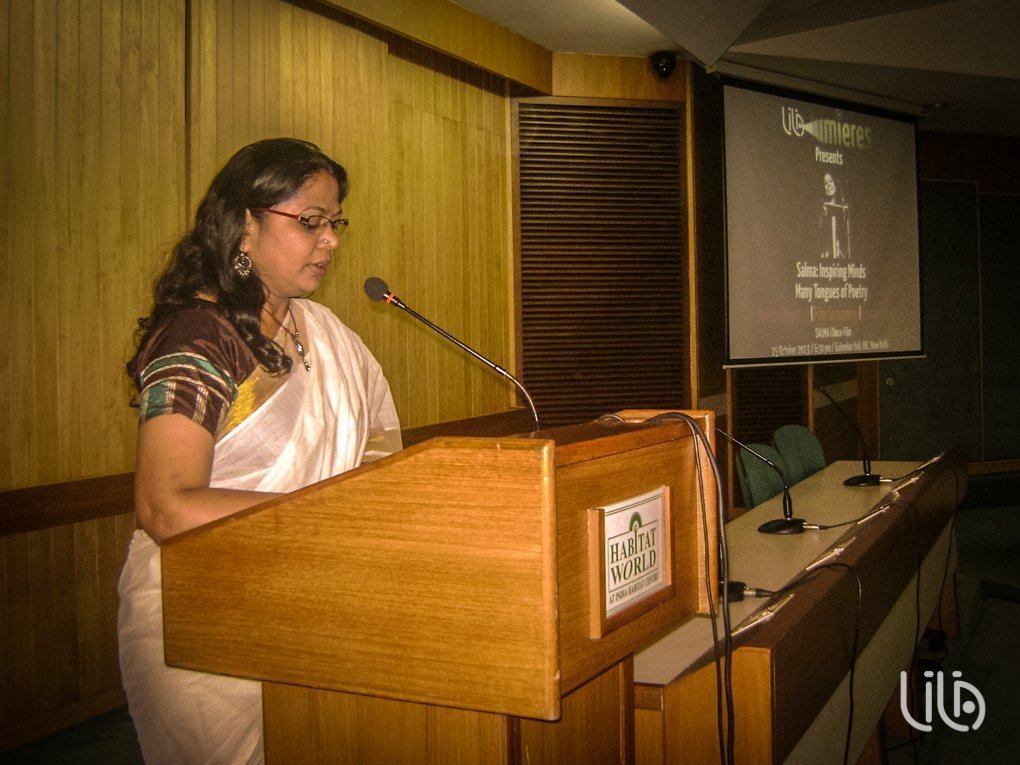 Salma: Inspiring Minds
The Many Tongues of Poetry
Poetry Reading 

|

Film Screening 

| 

Conversation
Kim Longinotto (Dir.) / Tamil with English subtitles / 2013 / 90 mins
Tuesday 15 October / India Habitat Centre
Synopsis: Born into a conservative Muslim family in Tamil Nadu's Thuruvankuruchi village in 1968, the life of Rokkaih, alias Rajathi, was ordinary till she was 13. Barred from going to school, and house arrested, the girl began to write poetry and publish under the pseudonym Salma. Married at 20, and thrown into a life of near total subjugation, she slowly took charge of her existence. Today, she is one of the most well known writers in the country, and a recognized political figure in her state. From a school dropout to becoming the chairperson of the Social Welfare Board of Tamil Nadu, and being one of the most widely translated, widely travelled poet of our times, Salma captures the moving saga of the extraordinary life of an Indian woman.
Awards:
Best International Feature, Documentary Edge Film Festival, New Zealand
Best International Director, Documentary Edge Film Festival, New Zealand
Second Best Film, Audience Award, Berlinale Film Festival, Germany
German Star Of India: Best Documentary, Stuttgart Indian Film Festival, Germany
Best Film, International Human Rights Films Festival, Tunisia
Collaborations:
Movies that Matter, Amnesty International, The Hague
Your Hope is Remaining, Chennai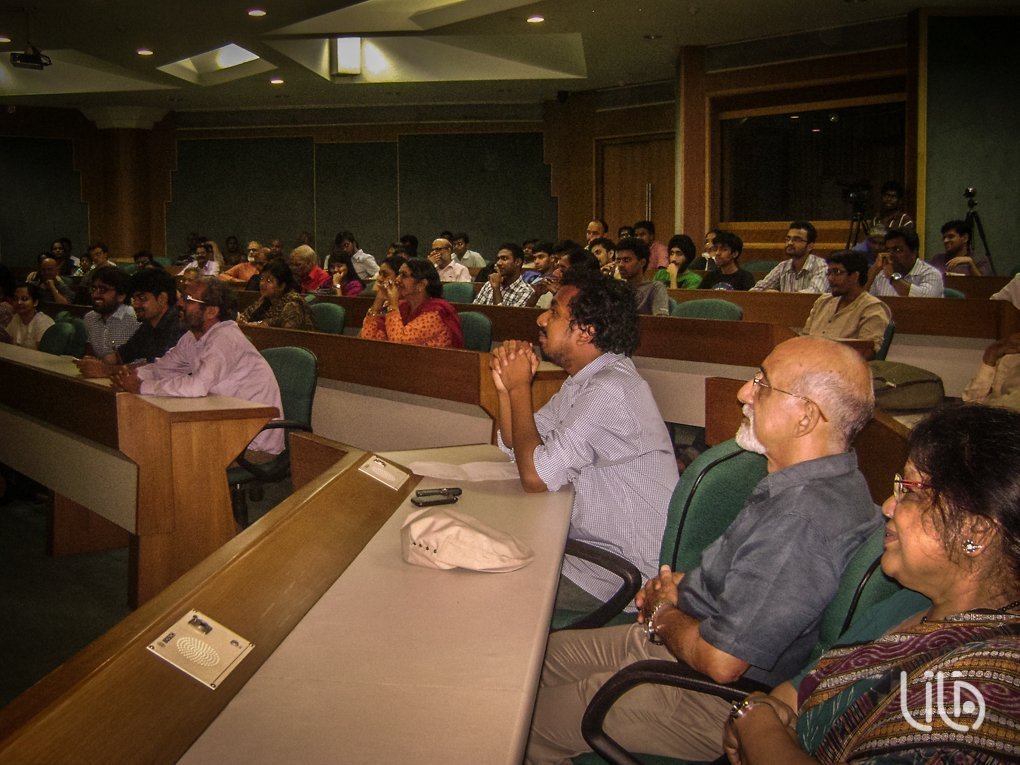 Salma conducted a Poetry Reading in Tamil. It was followed by the reading of her text by the translators:
Ahomiya: Rabiul Islam
Bangla: Himanjali Sankar
English: Rizio Yohannan Raj
Gujarati: Roomy Naqvy
Hindi: Anamika
Malayalam: Niveditha Kalarikkal
Urdu: Kaif Ali Taqvi
The docu-film was critically introduced by Aparna Sanyal. Aparna Sanyal is an award-winning filmmaker and documentary producer. Her works have been broadcasted on Indian and international televisions. She has produced "Deadliest Roads – Himalaya" (History, 2010) and "World's Toughest Trucker" (Discovery, 2011). Her films "Tedhi Lakeer – The Crooked Line" (2002) and "A Drop of Sunshine" (2011) have been screened at festivals in India and abroad. She is the co-founder of Mixed Media Productions & Oasis Television.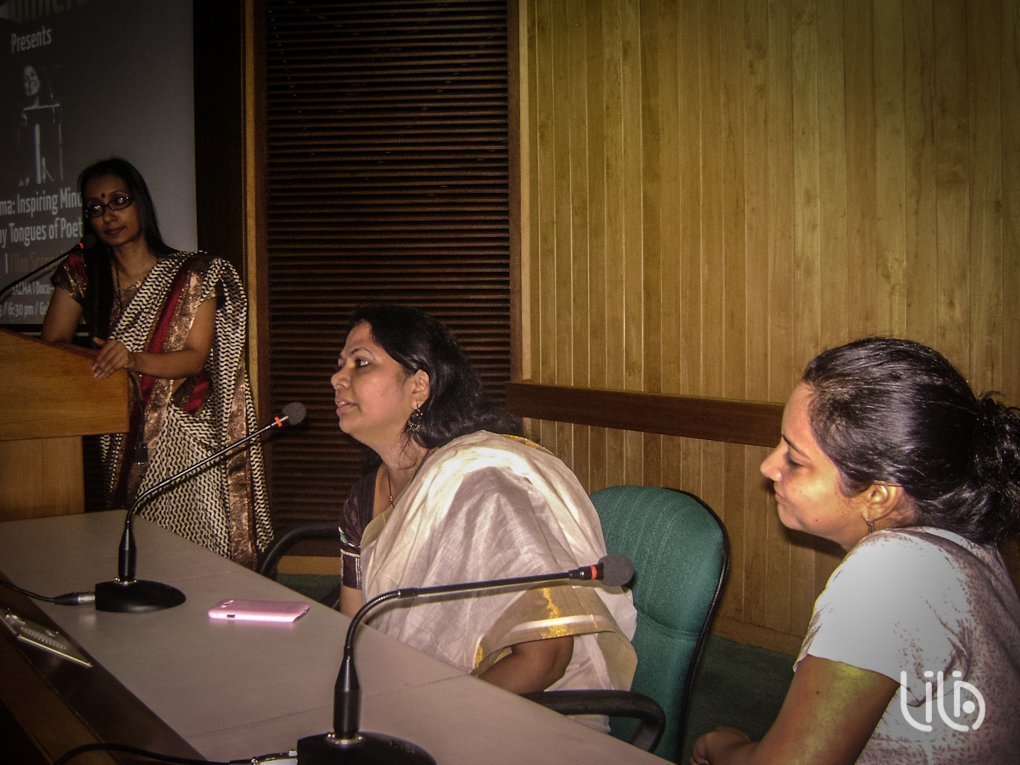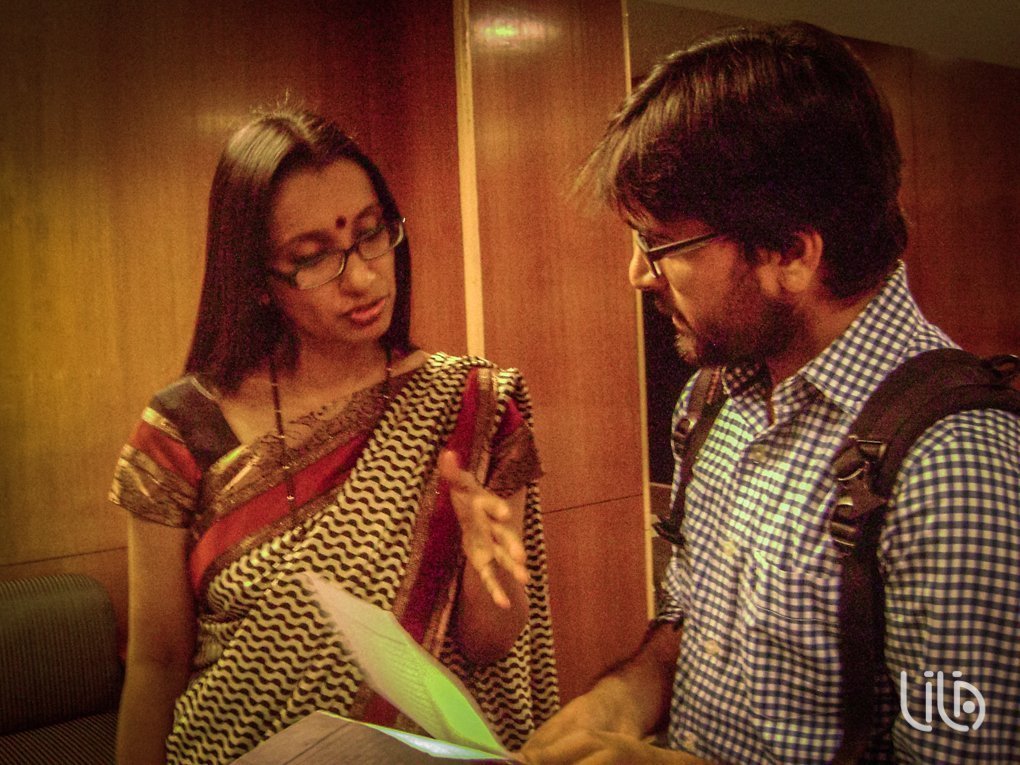 We launched our films wing LILA Lumieres with the event SALMA: Inspiring Minds – Many Tongues of Poetry on 15 October, the birth anniversary of Nietzsche, Foucault, Italo Calvino… as many inspirations for us at LILA.

It was heartening to see a full house in early evening in Delhi; people from all walks of life… From this event, we will definitely cherish and keep warmly in our memories the translators' meet, with Anamika (Hindi), Roomy Naqvy (Gujarati), Rabiul Islam (Ahomiya), Himanjali Sankar (Bangla), Kaif Ali Taqvi (Urdu), along with Salma herself. Nivedita Kalarikkal, who did a sensitive Malayalam translation of Salma, unfortunately could not join us as she fell ill, but Satchin Joseph Koshy of LILA represented her. As the translators had to work on the basis of Rizio Yohannan Raj's English translation, this was also a good chance for the translators to exchange notes, and observe the possibilities of translation among different Indian languages.

The reading itself was a poetic opening into the film. Salma and Rizio read a couple of poems in Tamil and English to give the audience a feel of her poetry. All the seven translators read the poem "Perspective" in their languages.

Perspective

Salma

I stand upside down

and comb my hair.

I cook topsy-turvy,

and eat thus, too.

I sit inverted on my haunches

to feed my child;

heels upward,

I read my books.

Upside down,

I gaze at myself.

Terrified, stunned, and staring at me,

a bat,

hanging ripe on the tree in the garden.

We chose this poem to reveal how LILA, as a democratic space, allows multiple perspectives to be brought together for creative purposes. As it is important to extract the transformative moments embedded in the narrative of a strong protagonist, and discuss them, filmmaker Aparna Sanyal's intervention was critical. She also moderated the discussion that followed the screening.

We plan to do more, much more under the LILA Lumieres banner. Stay with us for more events in the coming days, in different parts of the country.