Photography by Udayan Mehra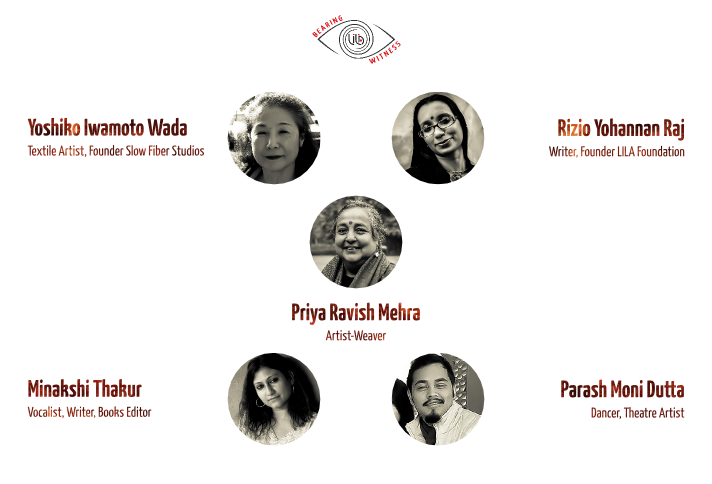 The Imperfect Cloth
an evening of conversation, song and dance
Wednesday 4 March
Amaltas Hall
India Habitat Centre
New Delhi
The evening opens up the art of Priya Ravish Mehra, artist-weaver, by delving into different aspects of her work through dance, music and words. Priya's artistic journey, from chasing the pure aesthetic in her earlier days, was transformed by a life-threatening cancer, an experience which would drastically redefine her approach to art practice.
Her extensive research into the century-old tradition of darning, which hid the defects on clothes through the meticulous care of the invisible darners, then becomes the predominant motif in her work. The art of mending damages on the cloth by the Rafoogars (darners) is reinterpreted as the act of restoring the fragility of the body and healing the wounded soul. But by then, it also becomes vital that the imperfections show on the work of art. The concept of beauty thus enlarges in scope, bringing the emphasis on detailing flaws.
Music, movements, and words weave a compelling narrative around an artist whose artworks are not only aesthetic creations but also poignant remnants of a body that underwent repair.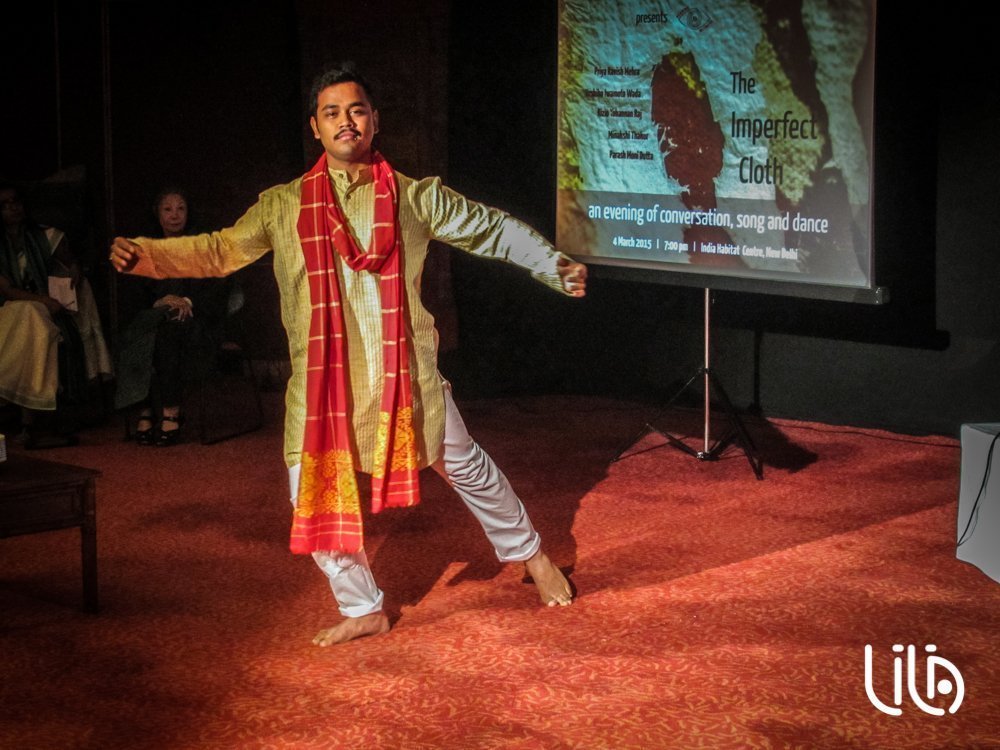 Photography by Udayan Mehra
Participants:
Minakshi Thakur is a Vocalist, Writer and Books Editor.
Parash Moni Dutta is a Dancer and Theatre Artist.
Priya Ravish Mehra is an Artist-Weaver.
Yoshiko Iwamoto Wada is a Japanese scholar, textile artist, and Founder of Slow Fiber Studios.
Rizio Yohannan Raj is Writer and Founder of LILA Foundation for Translocal Initiatives.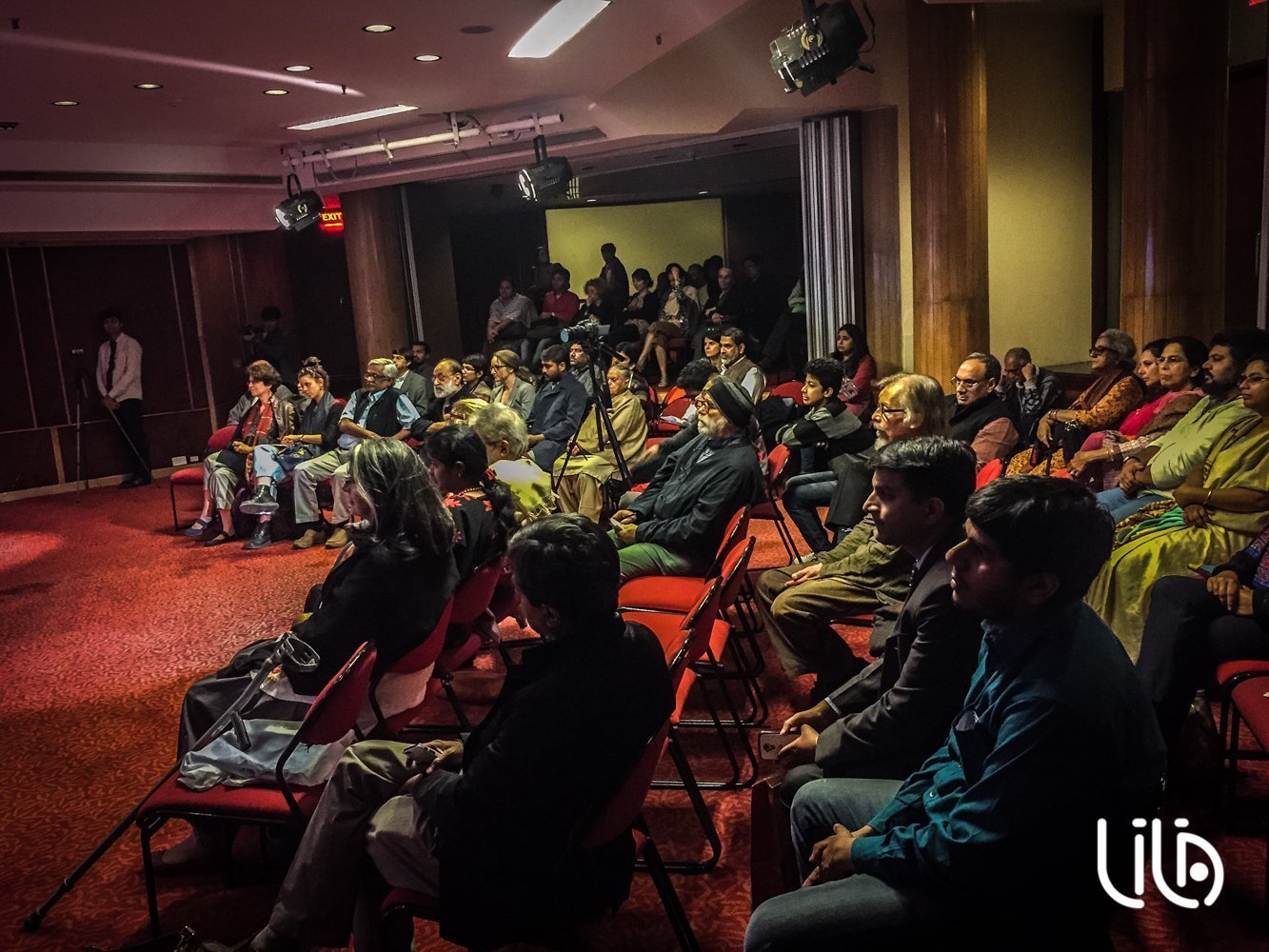 Photography by Ambroise C. Bukasa & Shriyam Gupta
Handicraft is not simply decoration; to artist-weaver Priya Ravish Mehra it is also part of the art of life. Out of nothingness, a thread is woven. A cloth's lifetime is prolonged by the art of rafoogiri, or darning; an art that itself remains invisible. Weaving thus lends itself easily into poetry and metaphors: of Kabir's devotion woven into a cloth, of poetry woven out of silence, and of healing and repair.

"Rejected pieces suddenly became very important," Priya said, reflecting on the time following her learning she had cancer. "Feeling as discarded as those pieces" she took on repairing and mending, a work that would slowly compare to a life-saving activity. A certain honesty accompanied this art, such that it became important not only to work on those pieces, but also to reveal their defects. The focus then shifted to darning, and the artistry behind a cloth that was imperfect: a cloth that allowed for repair, for mending, for art.

Counter to intuition, art is found in the ordinary, in the imperfect, and is closer to home. It has proven to be the case for Priya who was pointed back in the direction of home to seek rafoogiri. Yoshiko Iwamoto Wada, her longtime friend, was studying the art of boro, a darning and dying tradition of Japan, which puts together pieces of cotton in an imperfect weave. Yoshiko was fascinated by rafoogiri, which was elevated to the level of artisanship, and asked Priya to study it.

Much later, this research, which led her to digging into her roots in Shantiniketan, also became a life-saving skill: an outward manifestation of repairing and healing of her own cancer. Not only the product – the imperfect weaves – but also the process of repairing, too, became a metaphor for life. Life was both the imperfect cloth and the art of mending and healing.

Eventually, the artist found greater pleasure in revealing the defects. Once the quest to be perfect was given up, what remained to be enjoyed was the process and its imperfection: "There is no perfect cloth. Perfection lies in the repair of the piece." Perfection lay in the ability to mend.

The weave of friendship was also discernible. While Yoshiko had once asked Priya to research rafoogiri – the art of darning, Priya's art is akin to boro – where defects are laid bare, where weaves are tied together with an urgency bypassing perfection. It is in this realm, beyond ugliness and beauty, that there is the world for another beauty, as the two agreed.

Like a body riddled with its own mortality, its own imperfections, boro's strength laid in its ability to take over pieces that were old, worn, and torn, to bind them together in colour and in fabric. Imperfection was difficult to hide with this utilitarian art, as Yoshiko admits, and many would not consider this anonymous artisanship a form of art. Yet, the urgency – the one that compelled Priya's art, is precisely the one that compelled boro patchwork: to create a warm fabric made of pieces that cannot be thrown away, that must be re-used, and must bare their imperfections.

And it is in that need: urgent, raw, imperfect, human, that Priya's art is revealed.

Chitra Kalyani