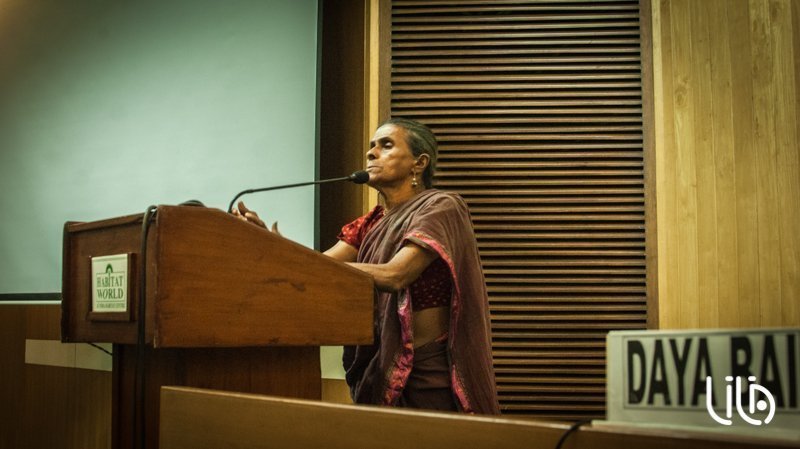 © LILA Foundation
Daya Bai is a social activist working for the upliftment of tribals in Central India. She went to Hazaribag in Bihar to become a nun but left this project half way, to contribute to the protection of tribal groups in Bihar, Haryana, Madhya Pradesh, Maharashtra and West Bengal. She worked with communities at turning points of their histories, such as after the war in Bangladesh, or after gas disaster in Bhopal. She discovered the Gonds in MP and decided to stay on with them. Currently, she is teaching organic farming to the villagers of Barul. Her main goal is trying to maintain the tribal systems of knowledge by amalgamating them with contemporary ones. Her background in law aids the tribal in their disputes and argument without judicial involvement.
Shashwati Goswami, Associate Professor at the Indian Institute of Mass Communication, New Delhi, chaired the lecture and moderated the discussion. Her areas of interest include Media Policy, Public Health Communication, Environment and Conflict Communication, Radio Broadcasting and Community Radio. She has worked extensively in the areas of Development-Induced Displacement and Urban Poverty. She is a recipient of Panos South Asia fellowship for conflict reporting and Rockefeller archive centre grant-in-aid for archival research in family planning communication. A native of Assam, she has worked with tribal communities in the North East.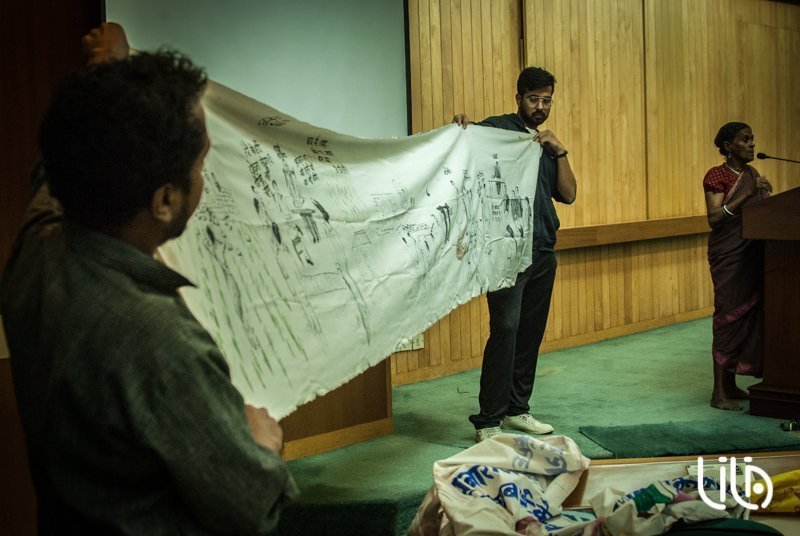 © LILA Foundation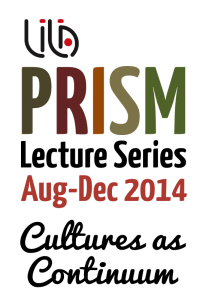 The lecture: Tribal systems of knowledge work in close affinity between nature and humanity. As time passes, tribal cultures, in order to survive the changes and to sustain their indigenous essence, have to contemporise their knowledge, the failure of which might result in their extinction as a whole. But a blind acceptance of the changes from without also harms this rich culture. The Gonds in Madhaya Pradesh have already lost their culture and language, while there are other tribes that have assimilated modern streams of knowledge for the support of their ethnicity. The biggest damage has come over in agriculture, where the indigenous crops have given way to cash crops. The systems of governance in the tribal regions have tended to be more manipulative. In earlier times, among the Gonds, as with many other tribes, the governance of the different streams of knowledge was enabled in such a manner that for each stream there was a specialist or a leader and this position was transferred through lineage. Such a system ensures continuity, unlike the present parliamentary democracy. Of late, these structures and systems have crumbled down and are becoming extinct. In spite of attempts to reclaim the tribal structures and to contemporise those, the immense damage done to nature cannot be made unseen and a turning back to tribal ways is imminent. But the greatest task is to stand against the strong counter force and to survive and maintain their ethnicity.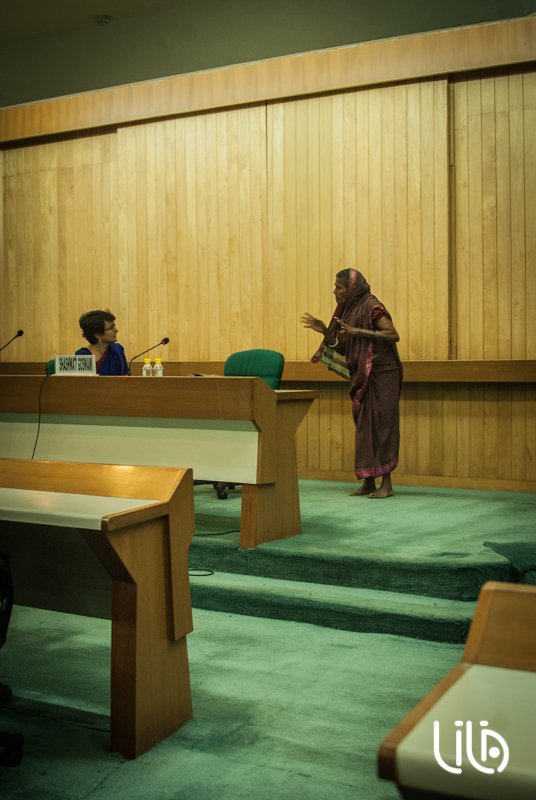 © LILA Foundation
This was not supposed to be your habitual lecture. It could not have been. Daya Bai is much, so much more than a discourse. She is, to say the least, a model. A life, a lifestyle, a series of life decisions with as many confident no-returns as necessary. As many checkpoints left by life to verify that the force of her character is still there, firmly grounded and ready to face all the resistances, the fights, the abuses and the aggressions that our world produces when established orders are questioned. Here she was – tiny body, frail pitch. The hypnosis of an evening.

A few minutes to recount some of the marking events of a life dedicated to causes – to the realisation of an ideal, in the most simple and practical forms, by living, by 'becoming a local' in villages of Bihar, of Haryana, of Maharashtra, of West Bengal, and finally of Madhya Pradesh, where she has been living with the Goondi people of the Barul village for nineteen years. She became a 'goi' after helping to deliver a baby, just a few years after leaving her native Kerala. But behind the initial reticence of the tribes, a tragic process becomes apparent: "They used to say 'we are monkeys of the forest.' Their royal profile had been lost by the time of Independence. They had lost more: their human image."

Challenges multiply; Daya Bai takes initiatives. When the forest department changes the wage system in the disfavour of workers, she uses her legal knowledge to fight the case off court. For eighteen years, an effort is made to set up a school. The Panchayat leader refuses to start one. A learning centre is launched with more motivation than means, placing local knowledge as the basis of education, and letting writing and textbooks be dealt with later on. The results are remarkable, even when the children rejoin the official system through the 5th grade tests. The project raises attention, all the way up to the World Bank. But their massive help changes the local economy, the social structure, the parity between men and women.

New initiatives are required. After a few years of trial and error, a major breakthrough is reached in irrigation techniques and the soil regains all its potential. But when nature does not play its tricks, it is the social order that recalls the everyday reality of injustice. As farmers and women get tricked over loans, Daya Bai starts a new collaborative system. After just a few months, the small community can repay its debts. "The first necessity is liberation from lenders. Economic independence is the basis. Second is education. These have been my principles." But Daya Bai ends on a dissonant note: "I have taken these initiatives, but several have not given all the fruits they could because they were not taken up by other individuals, by collectives or communities. Who will do that now?"

The breathtaking was just commencing. Cutting short her life story to interact with the audience, Daya Bai started giving the larger picture of her life decisions. Asked to comment on the multiple life threats she received, Daya Bai presented two banners she painted, representing each of the moments she was threatened and attacked, or intimidated during legal proceedings.

Several attendees brought up the relation of these initiatives with the organised 'development sector'. Shashwati Goswami, Chair of the evening, expanded the reflection: "From North East India to Japan, we are cultures of the sticky rice and of the bamboo stick. But we are affected by a certain kind of 'development' that has given birth to a funny saying in Assamese: 'It is like packaging the bamboo shoots from your backyard.' Development must be made place-specific."

What are the allies to those cultural struggles? Daya Bai's stance is unambiguous: "I don't believe in our law system at all. I have no faith in it. But I won't suffer injustice." Certain principles are beyond doubt. Daya Bai ended the evening reciting the first section of the Indian Constitution. But the height of this unforgettable encounter was probably a scene re-enacted by Daya Bai – the terrifying testimony of a mute girl recounting her rape by four boys of the area. Daya Bai becomes who she meets, enacting, feeling for them, screaming like the wordless. The audience, too, is still. Only tears move.

Samuel Buchoul