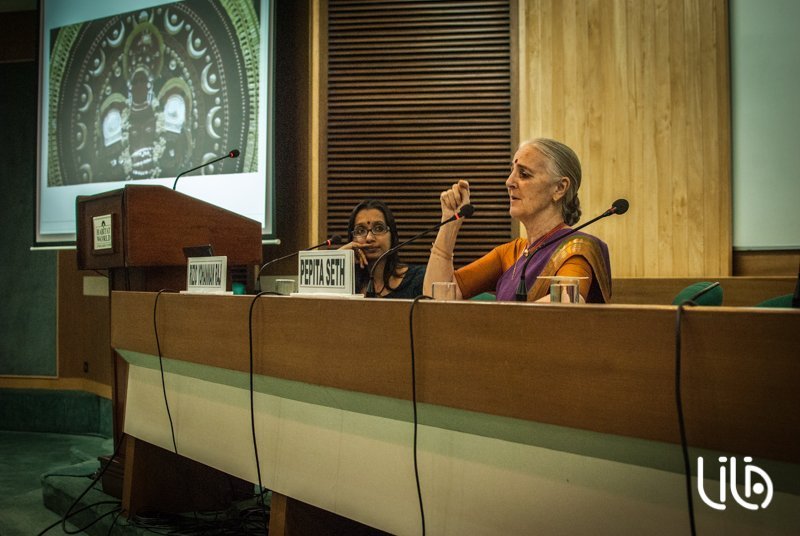 © LILA Foundation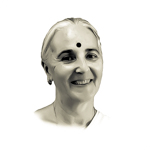 Pepita Seth trained as a film editor, worked on many British and American feature films. She first visited India in 1970, to retrace her soldier great-grandfather's diary account of his role in the 1857 march from Calcutta to Lucknow. All her subsequent visits were to Kerala, where she photographed Hindu rituals throughout the state. She lived in Kerala from 1979 to 1986 and, although based in Delhi from 1986-1999, made extended visits to Kerala to begin photographing Theyyam. In late 1999, she returned to Kerala. After working for 7 years on her book Heaven on Earth: The Universe of Kerala's Guruvayur Temple she restarted her still 'in progress' work on the Theyyam rituals of Malabar. In 2012 she was awarded the Padma Shree.
Rizio Yohannan Raj, Executive Director of LILA, chaired the lecture and moderated the discussion. She is a bi-lingual writer and educationist. Her works include three collections of poetry in English: Eunuch (2010), Naked by the Sabarmati and Other Guna Poems (2012) and Exchanges with the Thinker (2013). She is also the author of two novels in Malayalam (Avinasom and Yatrikom), the first of which is translated into English as A Tale of Things Timeless (2012). Her academic works include a pioneering volume on Comparative Literature, Quest of a Discipline: New Academic Directions for Comparative Literature (2012).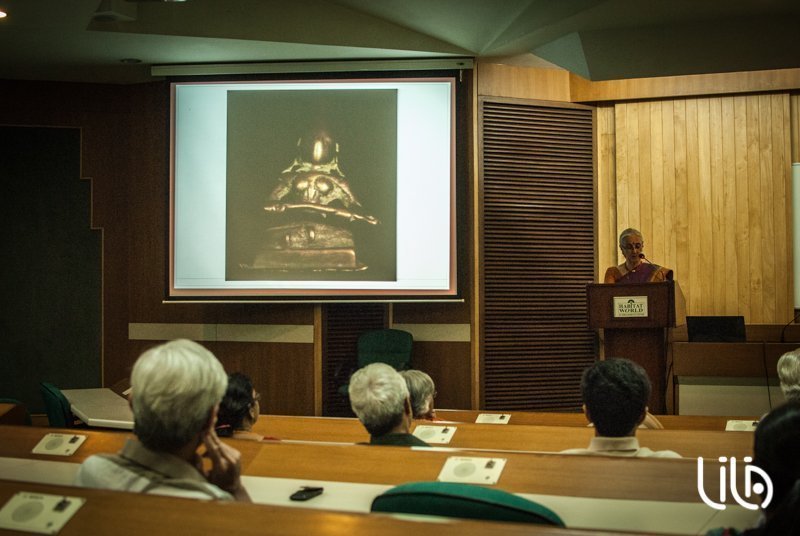 © LILA Foundation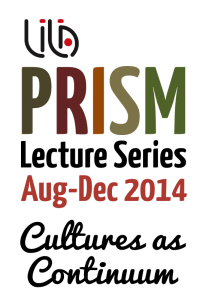 The lecture: Annapoorneswari's World – After arriving in central Malabar, the goddess Annapoorneswari offered protection to everyone and sought links with surrounding shrines. She thereby bound the many different communities together, with even the local Theyyam deities becoming associated with her, reflecting and enhancing her importance. Today, this importance remains in the everyday life of the locality.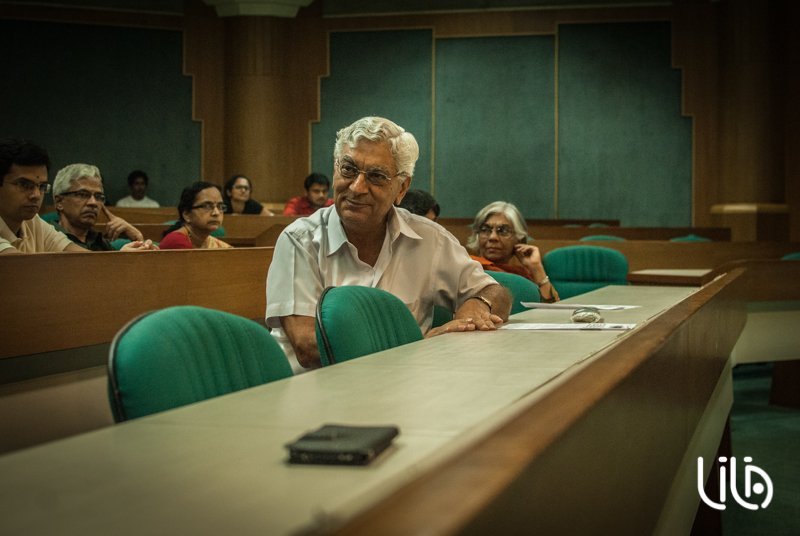 © LILA Foundation
"She binds a large part of Malabar together; that, there is no doubt." She is Annapoorneswari, alias Amma, goddess and mother of the people of North Kerala. In the seventh lecture of the PRISM Series 2014, photographer and writer Pepita Seth brought the focus on Kerala, and the Theyyam rituals associated with the worship traditions of Annapoorneswari, to unravel yet another face of culture as continuity. Through her experience of over three decades in the southern state, Pepita Seth could present how some of our oldest traditions, at the crossroads of religion, social order and pre-Hindu rituals, can highlight another model of governance, ancestral yet urgently relevant in today's world.

Annapoorneswari, it is first a legend and then a chronicle. She came from the sea, Kerala's boisterous setting of interaction with the rest of the world for millennia. This goddess, who would soon be accommodated within the Hindu pantheon, arrived on a boat led by an exclusively Muslim crew, from Kashi, and settled first in Aiyram Thengil, and finally in Cherukunnu. She is welcomed by the local communities, and spreads emissaries to the neighbouring lands to make known her intentions to take care of all. A newcomer, her means are sparse, but not her ingenuity. She sends a messenger and manages to intrigue Shiva, Appa or father of the people, who decides to pay her a visit. Amma is in seclusion, naked in her tree. She lists each of the clothes and ornaments of Shiva, and describes how they would perfectly fit, to cover her naked body. Appa gives them away one after another. Realising he is outsmarted, he retorts, but the essential is secured: now, she can take care of her people, guaranteeing forests and fertile lands for all of them. A long bond begins.

The goddess is a real mother, feeding her people materially and spiritually. A popular symbol associated with Annapoorneswari, the social rituals of rice donation become custom, every time bringing a genuine moment of joy in the act of offering. While the centuries gather hundreds of folk stories of fight over the correct amount of tonnes of rice to cook for a particular occasion, they also reserve surprising anecdotes: according to one of them, at the gate of a temple, Annapoorneswari leaves a bag of rice in case a visiting thief would need a snack before getting to work… A generous mother, she ensures cohesion and harmony. Next to her temple in Cherukunnu, is a mosque. "Come this way, I know a better view for your photographs," a Hindu girl tells Pepita one day: no barriers; the places of worships belong to all under the benevolent eye of Annapoorneswari. In this locality, the Muslims do not eat beef, out of respect for her.

And finally, enters Theyyam. Ancestral performance tradition of Kerala, Theyyam marks the yearly visit of deities within the community, inhabiting the performer's body for the time of the long and intense rituals. Annapoorneswari does not have a Theyyam manifestation as such, but her presiding presence is always felt. When rituals are interrupted, she gets angry, and social harmony and prosperity get directly affected. Via Theyyam, Annapoorneswari transforms her caring intention into a palpable social reality: "It gives Amma's people an extraordinary sense of both her benevolence and their own identity."

Pepita's passionate narration initiated a long exchange with the active and concerned audience. How can we learn from the power of cohesion of such locales? Pepita's fundamental observation was daringly optimistic: "I live in a place, at a level where things just work. Nothing is a problem. It is a well oiled system." The kind eye of Annapoorneswari ensures social peace across religions and communities, while the donation rituals demonstrate the possibility of fulfilling everyone's necessities, irrespective of the general material situation.

Rizio Yohannan Raj, Chair and moderator for the evening, ended with a few words to extend and apply the insights of Annapoorneswari and the Theyyam rituals within today's societal challenges. "From only two districts of Kerala – Kasaragod and Kannur – 900 gods come back to earth every winter. This shows the real potentials of coexistence." But Theyyam is also a tradition slowing losing ground. "Major performers know that Theyyam, in its present form, will not survive for more than fifteen years. They know that, and they resist. They also know that something has to be transferred. And this thing," she concluded, "this thing is the seed, the heart of these cultural traditions: another kind of governance."

Samuel Buchoul