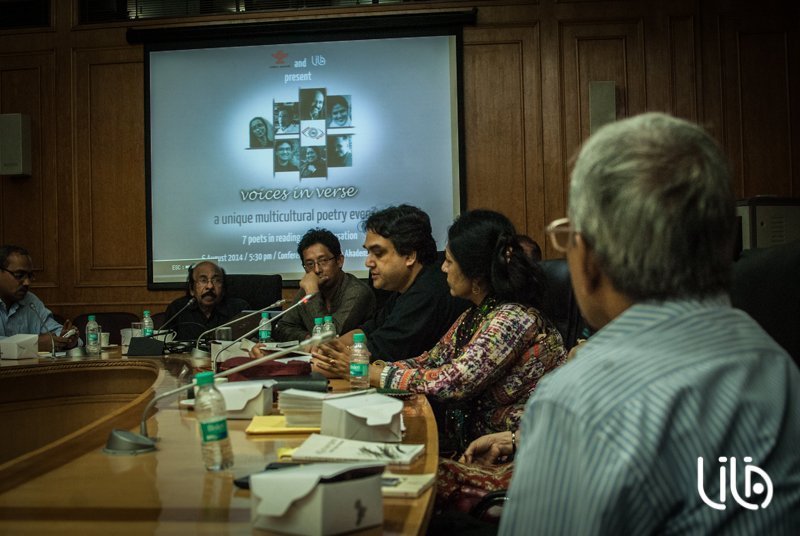 © LILA Foundation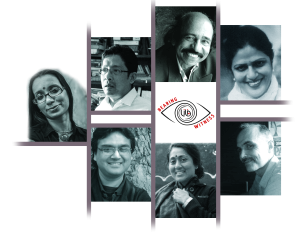 Voices in Verse
a unique multicultural poetry evening
Wednesday 6 August / 5:30 pm
Sahitya Akademi Conference Hall
Conference Hall, Sahitya Akademi, New Delhi

On Wednesday 6 August, LILA Foundation and Sahitya Akademi hosted Voices in Verse, organised under the banner Bearing Witness, bringing together seven poets from diverse cultural backgrounds. They have raised their voices, often ironically inverted, in an effort to cope with our times fraught with differences that are made to appear irreconcilable. We celebrate their subversiveness as well as their capacity for dynamic co-habitation. We believe the voice of poetry rises at the right time, inspiring us to creative action.
The evening progressed as follows:
Welcome: K Sreenivasarao (Secretary, Sahitya Akademi)
Opening remarks: Rizio Yohannan Raj (Poet; Executive Director, LILA)
Keynote: Eddin Khoo (Poet; Founder, PUSAKA)
Poetry reading and conversation, chaired by K. Satchidanandan (Poet and critic)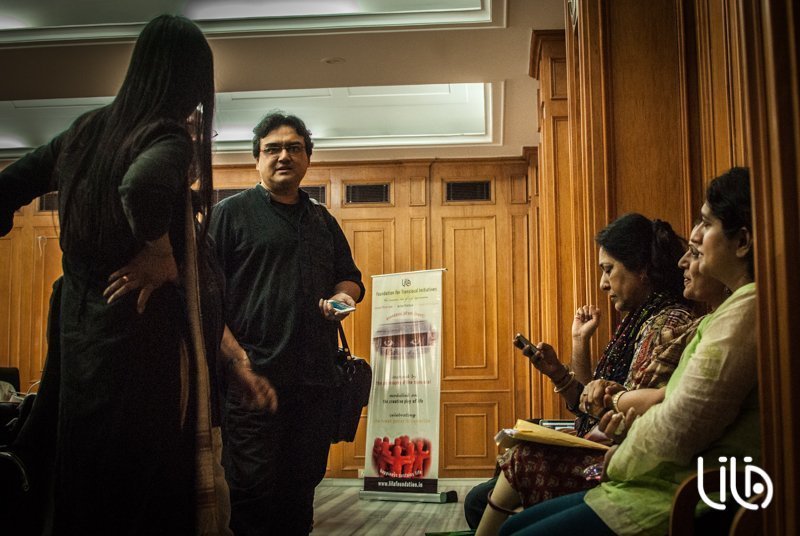 © LILA Foundation
Participants
Anamika is a Delhi-based poet who writes in Hindi. A lecturer at the Department of English at Satyawati College, Delhi, she has five collections of poetry to her credit. Over the years, she has won numerous accolades for her literary work, including the Bharat Bhushan Award for Poetry (1996), the Girija Mathur Samman (1998), the Sahityakar Samman (1998), the Parampara Samman (2001) and the Sahityasetu Samman (2004). In addition to poetry, she has authored volumes of fiction, memoir and criticism, and undertaken translations of the works of Octavio Paz, Rilke, Rabindranath Tagore and Girish Karnad.
Eddin Khoo is one of the most important cultural activists and thinkers in today's Malaysia. A poet, writer, journalist, translator and teacher, he is the founder of PUSAKA – Centre for Culture, Tradition, Ideas – a cultural organisation dedicated to studying and preserving forms of traditional and ritual theatre. A self-described half-Chinese, half-Indian mix, the translator of Moby Dick, an expert on Islamic art, a political analyst, since 2002 Khoo has been tirelessly working to revive the tradition of Wayang Kulit, Malaysian shadow puppetry.
K Satchidanandan is one of the most widely translated of contemporary Indian poets, with 23 collections available in 19 languages. Writing in Malayalam and English, he has also authored several books that include plays, critical works, translations and travelogues. He has introduced writers from Black, Latin American, European and Indian poetry to Malayalam readers, such as Neruda, Block, Vallejo, Brecht and Celan. He was Editor of Indian Literature, the journal of the Sahitya Akademi and the executive head of the Sahitya Akademi between 1996 and 2006. He is a Fellow of the Kerala Sahitya Akademi and has won a variety of literary awards and fellowships. He has represented Indian poetry at a number of forums and festivals across the world..
Michael Creighton is a poet from Portland, Oregon. He is now settled in Delhi with his partner and three children and works as a middle school teacher. He is interested in the beauty and ugliness that surrounds us – and what these images reveal about ourselves, our neighbors, and the spaces we share. Most days, he commutes by cycle, metro or DTC bus, so he asks you to kindly refrain from driving your car or motorbike in lanes designated for public transportation or non-motorised vehicles! His works have appeared in various journals and newspapers, both in India and abroad.
Rizio Yohannan Raj is a bi-lingual writer, translator, and educationist. Her works include three collections of poetry in English: Eunuch (2010), Naked by the Sabarmati and Other Guna Poems (2012) and Exchanges with the Thinker (2013). She is also the author of two novels in Malayalam (Avinasom and Yatrikom), the first of which is translated into English as A Tale of Things Timeless (2012). She has translated and introduced major 20th century Malayalam writers into English, including the works of Kumaran Asan, the pioneer of modern Malayalam poetry. Rizio is the Founder and Executive Director of LILA.
Sudeep Sen internationally recognized as a major voice of the new generation of world literature. Sen's prize-winning books include: Postmarked India: New & Selected Poems (HarperCollins), Distracted Geographies, Rain, Aria (A K Ramanujan Translation Award), Ladakh, and The HarperCollins Book of English Poetry (editor). Blue Nude: New & Selected Poems | Translations 1979-2014 (Jorge Zalamea International Poetry Prize) is forthcoming from Partridge | Penguin Random House. His poems, translated into twenty-five languages, have featured in major international anthologies. He is also a widely published photographer and graphic artist. Sen is the first Asian to be honoured with an invitation to participate at the 2013 Nobel Laureate Week in St Lucia, where he delivered the Derek Walcott Lecture and read his own poetry. The Government of India's Ministry of Culture awarded him the senior fellowship for "outstanding persons in the field of culture".
Vanita is a poet, literary critic, translator and a lecturer in Punjabi. The author of more than forty texts, among which her latest monograph, Bhartiya Sahitya ke Nirmata: Sutinder Singh Noor (Sahitya Akademi, 2013). Vanita has received a number of awards, including the Criticism Award of the Punjabi Academy in 2001, the IAPAA Award in 2007, the Sahitya Akademi Translation Award in 2009, the Poetry Award of the Punjabi Academy in 2010 and the Sahitya Akademi Award in 2011 for her translation of  Kaal Pehar Ghariyan into Hindi. She has published works in many magazines and journals, and participated in various radio broadcasts.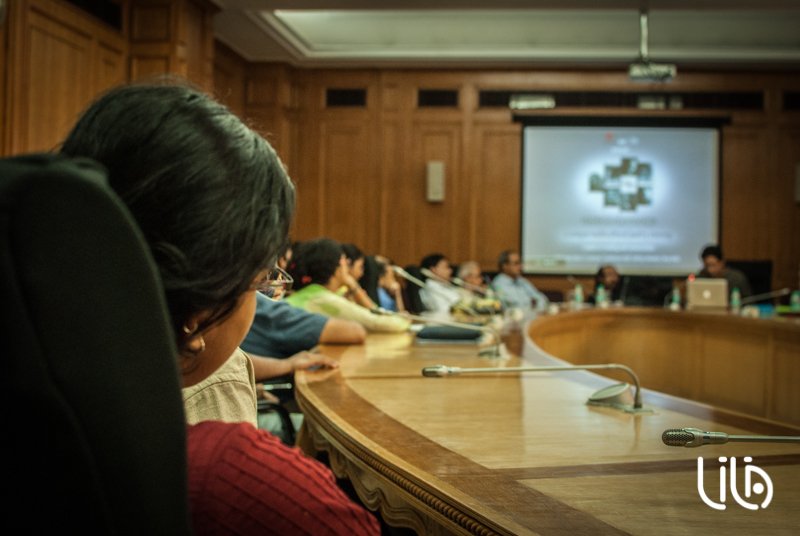 © LILA Foundation
Bearing Witness
"For the dead and the living, we must bear witness…" The spirit of Elie Wiesel's words animated the air as the Sahitya Akademi hosted a unique poetry evening, with readings by seven major writers in various languages, and a conversation among them, to mark the launch of the cultural banner of LILA Foundation, LILA Bearing Witness. The event, entitled 'Voices in Verse' celebrated the multicultural origins of the participants, and also served as an initial collective reflection on the possibilities of individuals and communities bearing witness to the times in general, and to the multitudinous ways in which poets in particular tend to bear witness.

After the welcome address by Sahitya Akademi Secretary K Srinivasa Rao, and initial remarks by LILA Executive Director Rizio Yohannan Raj, Malaysian poet, journalist, and puppetry conservationist Eddin Khoo opened the evening with the reading of an exclusive statement on the arduous agenda of poetry as a genre necessarily and urgently bearing witness. Reflecting on Auden's words, "Poetry might be defined as the clear expression of mixed feelings," Khoo reminded the audience how poetry always bears witness, but also welcomes creations not evidently or immediately political, ethical or even critical. It does so, principally in its power to regenerate language, to animate experience, to inspire chaos of feeling, to commemorate… When poetry bears witness, it becomes an ambivalent act that sidelines or subverts the classical paradigms of action. Khoo read his own poetry in English, and read a couple of poems by well known poets in Indonesian and Malay, and his translations of the same.

The poetry reading and conversation that followed, 'Voices in Verse', was chaired by senior poet and critic K Satchidanandan, who responded to the questions Khoo raised. He argued that poetry transmutes history through creating lasting verbal monuments, and historical time turned to become poetic time as a consequence. He added that witnessing is an act of volition and involves a choice, unlike seeing, which is automatic and involuntary. Witnessing is not only seeing but also showing, as Neruda suggested: "Come and see the blood in the streets!"

The other poets who read were Sudeep Sen, Anamika, Vanita, Michael Creighton and Rizio Yohannan Raj. They discussed how poetry raises its voice, often ironically inverted, in an effort to cope with times fraught with differences that are made to appear irreconcilable. The evening celebrated multiplicity through the presentation of poems from various languages and backgrounds, in which the audience participated with enthusiasm.

The first LILA Bearing Witness event in collaboration with the Sahitya Akademi was a testament of the poets' faith in the power of cultural expressions to transcend polarities. It upheld the fine balance between silence and speech, gravity and lightness, participation and witnessing.

Rizio Yohannan Raj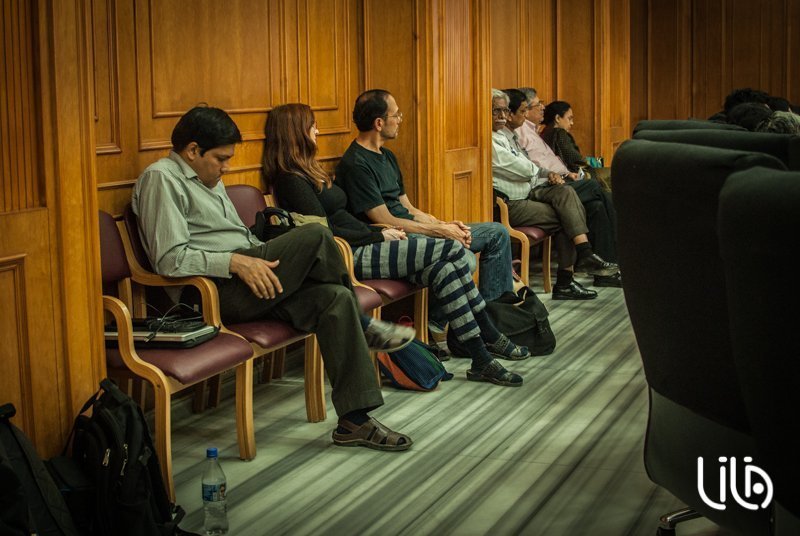 © LILA Foundation
Audience