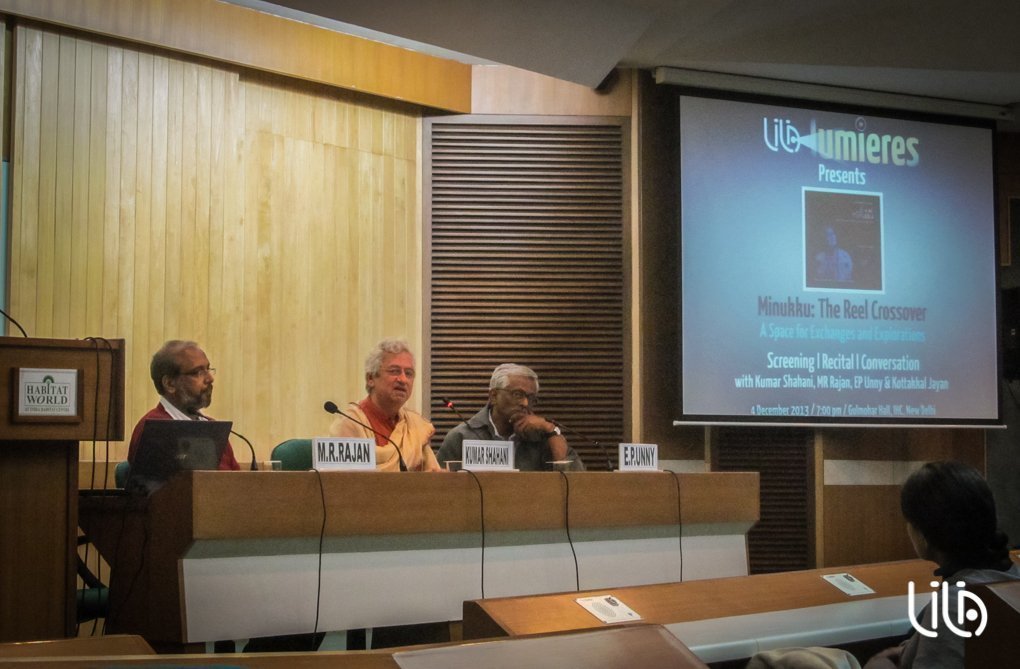 © Abdullah Abdul Hameed for LILA Foundation
Minukku: The Reel Crossover
A Space for Exchanges and Explorations
Screening | Recital | Conversation
with Kumar Shahani, MR Rajan, EP Unny & Kottakkal Jayan
MR Rajan (Dir.) / Malayalam with English subtitles / 2006 / 60 mins
Wednesday 4 December / India Habitat Centre
Synopsis: Minukku is a reel journey into the life of a Kathakali maestro, seen through the eyes of an actor and an artist. In this docu-film, actor Nedumudi Venu traces the experiences of Kottakkal Sivaraman who revolutonised the portrayal of female roles (minukku veshom) in Kathakali, while Unny's sketches capture the sculptural beauty of the latter's gestures and expressions. This film is thus a meeting ground of personalities, genders, and different art forms.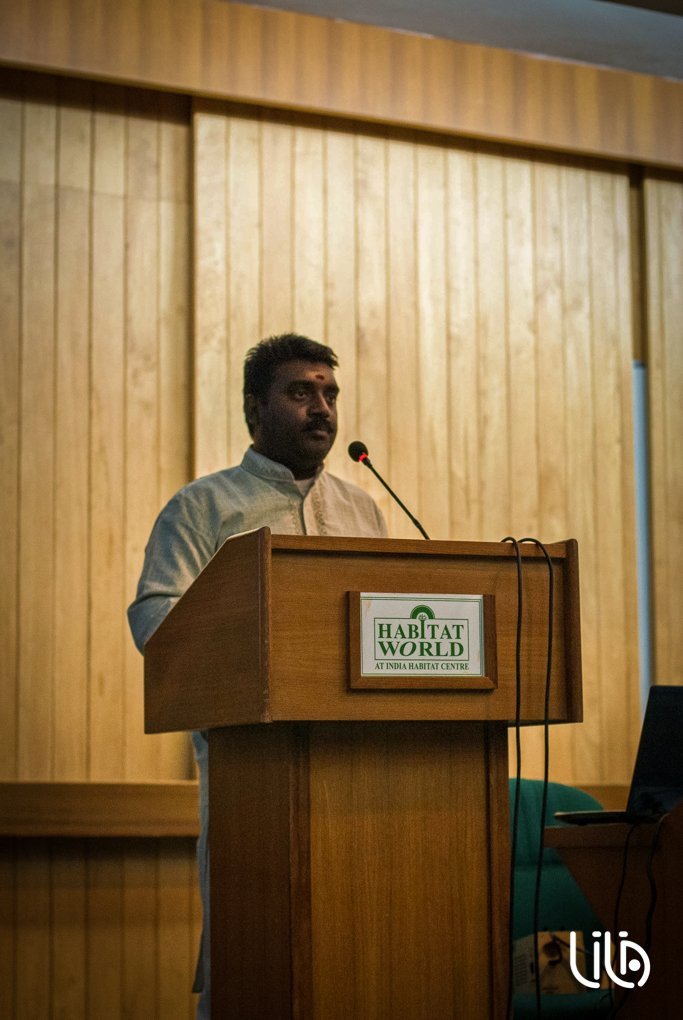 © Guillaume Gandelin for LILA Foundation
Participants
MR Rajan is the award-winning director of Minukku. He is a Chief Producer at Asianet. He has assisted veteran directors, Mani Kaul and B. Narsing Rao and has won many awards for his documentary films.
Kumar Shahani is a noted filmmaker who was largely responsible for the development of the 'New Indian Cinema' or the 'Indian New Wave' in creating an avant-garde cinema whose ideology was vastly different from the aesthetics of mainstream cinema prevalent till the seventies.
EP Unny is the Chief Political Cartoonist of The Indian Express. Apart from cartooning, he sketches and writes on contemporary issues. He has drawn and written graphic stories in Malayalam. He is the author of Spices and Souls: A Doodler's Journey through Kerala.
Kottakkal Jayan is a vocalist associated with the International Kathakali Centre, New Delhi.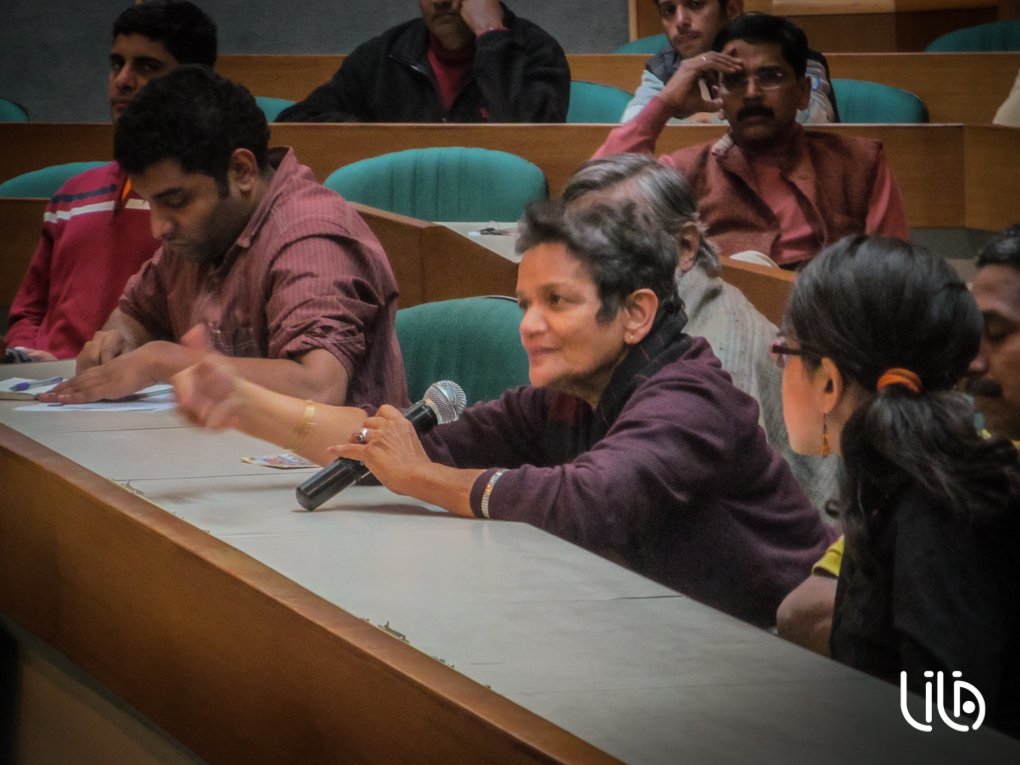 © Abdullah Abdul Hameed for LILA Foundation
Minukku: The Reel Crossover was an interdisciplinary event organised by our films wing LILA Lumieres on 4 December 2013 at Gulmohar Hall, IHC. MR Rajan's film Minukku is a reel journey into the life of a Kathakali maestro, seen through the eyes of an actor, Nedumudi Venu, and a graphic artist, EP Unny.

Minukku portrays Kottakkal Sivaraman, who revolutonised, in Kathakali, the portrayal of female roles (minukku veshom). LILA Lumieres chose to screen Minukku because of the many levels of crossover experience embedded in the film. As a creative space, the film explores the possibilities of the in-between spaces between different artistic expressions, genders, voices and the like. Rajan's films are important to LILA because of their exploratory nature, as well as their archival value.

Kumar Shahani, noted filmmaker and one of the pioneers of New Indian Cinema in the seventies, set the tone of the evening by emphasising the role of 'trust' in the process of filmmaking. Referring to Rajan's film, Shahani said how it has respected the 'sign', keeping the trust of a tradition that the filmmaker knows best. This tradition is one that takes note of the rate of change, and understands movement.

There are cultures that form themselves through their engagement with movement, and others that make sense of the world through a static view point. Shahani continues: most people find it difficult to read movements because of the way they are conditioned to look at the static world. The question that puzzles them is the following: how are we going to know the world if it is in a state of flux? Gautam Buddha had an answer to this: because everything is in a state of flux, we can do anything.

But this is a great challenge. And that is the risk that cinema and dance face all the time: how to know something that is changing? Rajan's film about performance captures his tradition's engagement with movement and change; it is reflected in the way he brings in the light and the wind into the frames. Hence, Minukku is not only a film on performance, but also a film about reading performance.

After that poignant introduction, Kottakkal Jayan of the International Kathakali Centre sang a soulful Padam from Nalacharitam, "Poomakalum mozhimaarum, bhoomi devi thaanum…" which marked an evocative entry into the film.

The film itself was a mesmerizing journey through the life and work of an unparalleled artiste. At the panel discussion, Shahani urged the audience to try and do the best to preserve this sort of cinema; it is a space where history is preserved. EP Unny narrated his experience of being a part of the film — it was a challenge to capture an art of colour in black and white line drawings. Rajan was taking a great leap by thinking up such a possibility, especially in the highly hierarchical cultural society of Kerala. Unny pointed out how the long process of the make up in Kathakali allows a doodler to be at his best in capturing an artiste. But then, once the artiste rises above his own puny self and becomes the larger than life mythical character, it becomes almost impossible to catch up with the pace of the expressions, gestures and movements.

Rajan, the director said it was a strange experience watching the film after so many years, in a new context and with a new audience. He pointed out how both Kathakali and cinema provide a meeting place for a lot of people, skills and traditions.

The audience seemed quite moved and speechless. Most of the comments conveyed a sense of longing for more of the experience that Minukku offered…