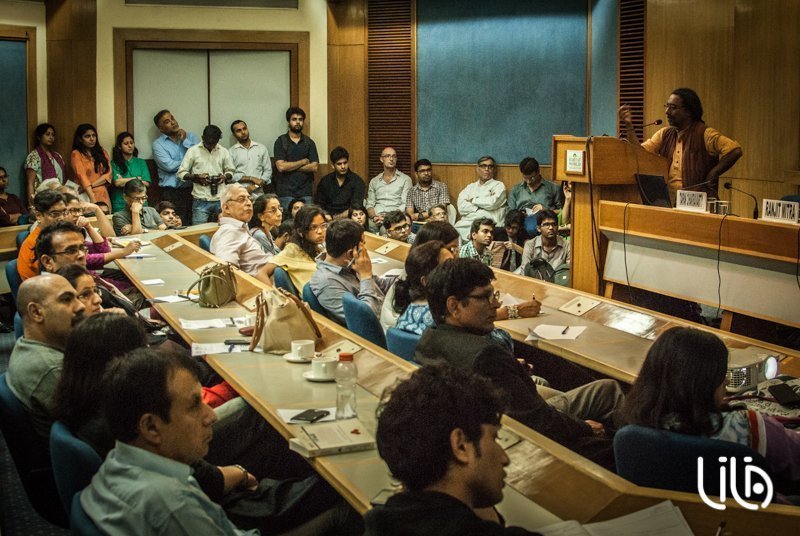 © LILA Foundation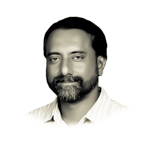 Tapan Chakravarty is currently Professor at Pearl Academy, heading the Department of Interior Architecture & Product Design. Teaching, consulting and practicing in Delhi/NCR for over twenty-five years, his interests lie in History of Habitation, Vernacular Dwellings & Organic Settlements. Tapan completed his Bachelor of Architecture & Masters in Urban Design from New Delhi, and PGC in Higher Education from UK.
Ranjit Mitra, Head of Department of Urban Design in the School of Planning and Architecture, New Delhi, chaired the session and moderated the discussion. He is an architect with more than two decades of experience in teaching, in India and abroad.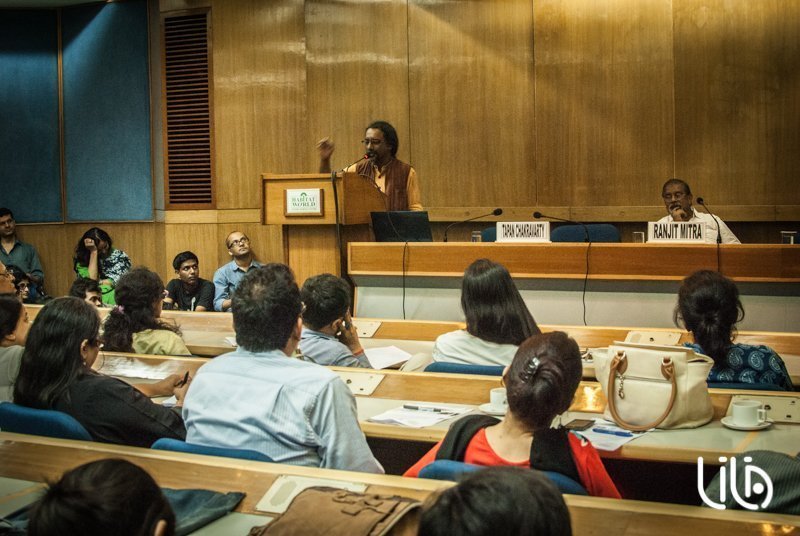 © LILA Foundation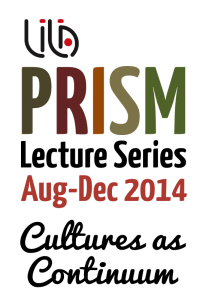 The lecture: The space, where the urban community meets to interact, celebrate, contemplate, perform, protest or simply hang out is generally the public precinct, which forms the better part of Urban Spaces. Often, the street and the public space willy-nilly overlap and juxtapose in a variety of ways, uses and relationships. Street life, street food, street bazaars, street art, street performances, street sports have traditionally evolved from this simple amalgamation that no city can do without. Do such spaces appear non-productive to the real estate developer or the infrastructure planner and thus are deemed to disappear? Do such spaces misappropriate relevance and invite extinction? Do such spaces silently morph or metamorphose to trend with the times & the eventual way-of-life? The built and the un-built are perpetually in conflict yet eternally in tandem; in a continuity that is more variable than constant. The lecture presentation aspires to discuss contradictions in continuity.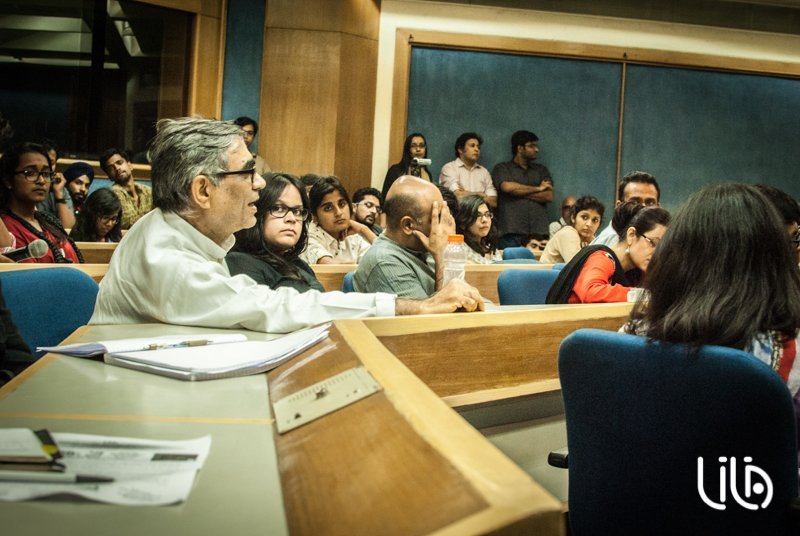 © LILA Foundation
Listen around: the city has become, too often, the very emblem of the discontinuous. Till today, we tend to see the city as the absurd reconstruction of an artificial environment, permanently mutating, changing, transforming itself, everyday moving further away from our natural roots. Grand parents regret the peace of the countryside, while parents are nostalgic of the city of their youth. "Pollution, crowd, or time act on us as markers of something," argued Tapan Chakravarty, "and that thing is discontinuity." "Space has been taken away in the city, they say…. But, is it really so?"

How can we retrieve the continuity of urban spaces? That is the task of urban designers, Chakravarty explained, but the first challenge is one of understanding, for everyone. Continuity is all around us. "What is discontinuity? As long as time does not halt, there is nothing like discontinuity. It may be transformation, mild change, drastic change… but is it always continuity. Discontinuity can only be death, the end of everything." To undertake this change of outlook, Chakravarty presented his two key words. "There is Thing, and there is Thought. A thing without a thought is useless. A thought without a thing is abstract." And, continuity takes place across Thing and Thought. "Look at certain locations in our cities. Across decades, a religious place becomes a spot for public hangouts, and finally turns into a dump yard. The thing remains, but the thought of that thing changes. On the other hand, sometimes the thing changes as the thought stays. A park is taken for constructions. Where can kids play cricket? The street becomes the place, the thing of that thought. Or, when courtyards are taken to fit more habitations, the front of the house becomes the place to dry clothes." Urban space is plastic, flexible, combining elements like a living being. "Thoughts can be connected to things around us. This is something fantastic: it is connectivity."

Where are the urban spaces today? In the history, city planning has come after the organic evolution of settlements, to impose spaces with pre-determined uses. "Initially, the street was the involuntary consequence of houses being built in particular manners, and leaving some lanes for transportations. Today, streets are designed first, and habitations fill up the remaining space." This often leads to absurd public, open spaces. "In Delhi, India Gate is the public space by definition. But which people do we find there? Tourists coming from outside the city." Urbanites do not recognise themselves in such spaces; these are not their urban spaces. "And there is worse. When planners set a park surrounded by roads, for instance. Some of these public spaces are fantastically useless. Thing after thing after thing after thing. Without any thought!"

Such prevalent assumptions on urban spaces have reduced their quality in the eyes of city dwellers, but, Tapan Chakravarty insisted, many creative possibilities remain open. Rooftops have been, in India and elsewhere, a fascinating setting for urban spaces. "Back in the days in smaller cities, so much life happened on the roofs. People used to communicate across roofs. One could jump from roof to roof to come down and reach another galhi." More than a place for leisure, it even became conducive to major social movements. "Riots do happen in tight packed neighbourhoods – where people can run away from the police through the terraces!" The earliest human settlements, Chakravarty recalled, were making such a vital use of rooftops. "Houses were placed against one other. Some of them did not even have external entries. So the rooftops where used as public spaces, where the day is spent. One would come down to the houses only to sleep at night." Evidently, today, rooftops are not used as occasions for urban spaces. Kites try coming down to India Gate, while they already have their place on the rooftops.

Of course, the scenario has changed for today's urbanisation in India. In the course of the exchange with the audience, moderated by the chair, architect and professor Ranjit Mitra, an attendee suggested that one does not come back at night to one's house, but to one's parking lot – the new necessities of communication and commuting have made of space first something to be divided amongst people according to their means of transportation. And, naturally, as buildings go from two to twenty-five floors, the initial parking lot below the habitation cannot suffice anymore. "But I would be more radical," replied Tapan Chakravarty. "I think habitations are our own parking lots. I finish my day; I go park myself. But there is nothing new about this. Thousands of years ago too, the house was a parking space – a one room set, simply meant to host goods and resting spaces. People lived through the day, in the outside."

"Changes happen in the urban spaces of India," Chakravarty concluded. "Continuity takes place. And indeed, it truly takes place. Because, unlike many other countries of the world, in India you can see a motorbike crossing the urban space, and then a car. But then, you also see the trolley merchant following them. Our urban spaces can still accommodate them all."

Samuel Buchoul