Mission Rio16: An Evening for the Cause of Goonga Pehelwan
Screening & Discussion
in collaboration with Drishti

Mit Jani, Prateek Gupta & Vivek Chaudhary (Dir.) / English / 2013 / 57 mins
Wednesday 18 December / 7:00 pm
Gulmohar Hall, India Habitat Centre
Continue supporting the cause on Facebook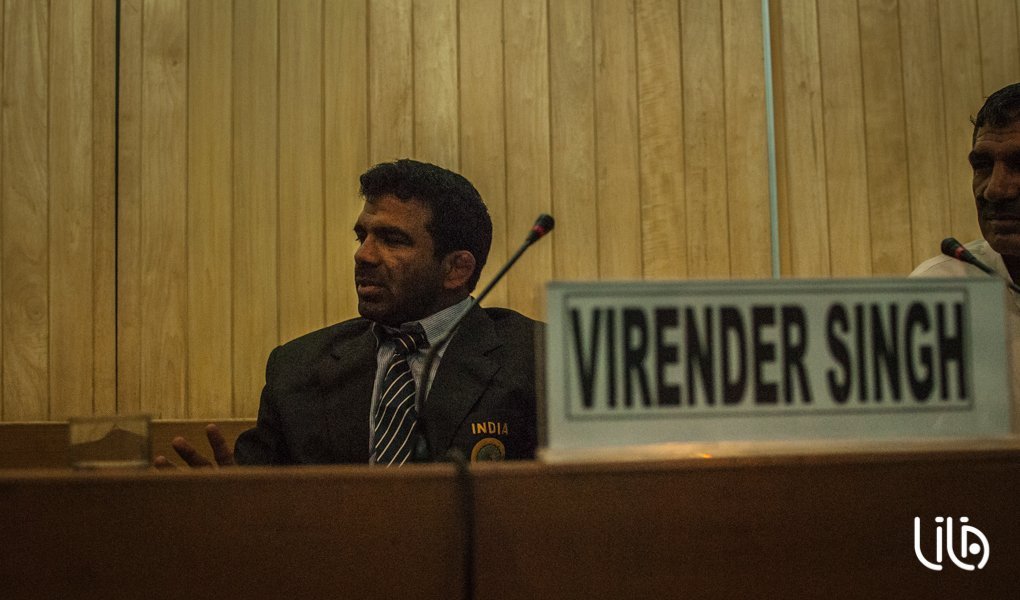 Virender Singh, aka Goonga Pehelwan
© Samuel Buchoul for LILA Foundation
Synopsis: Goonga Pehelwan is a documentary that follows India's most successful deaf athlete on his unlikely quest to reach the Rio Olympics 2016. He would become only the second deaf wrestler in the history of the Olympics to do so. This is the story of Virender Singh – a captivating account of the life of an incredible athlete; an athlete largely unknown, snubbed by the bureaucracy but who is no mood to let up as he continues to wrestle on. The film asks real questions to the sporting bureaucracy in India. Bringing to light all that Singh has achieved, it hopes that even if the bureaucracy doesn't wake up to his genius, at least the people of the country will know the smile of this champion. The struggle that Virender faces outside the wrestling arena are the tougher ones, because inside the ring he is in total control and losses are few. It's the battles outside the ring that this film endeavors to make him win.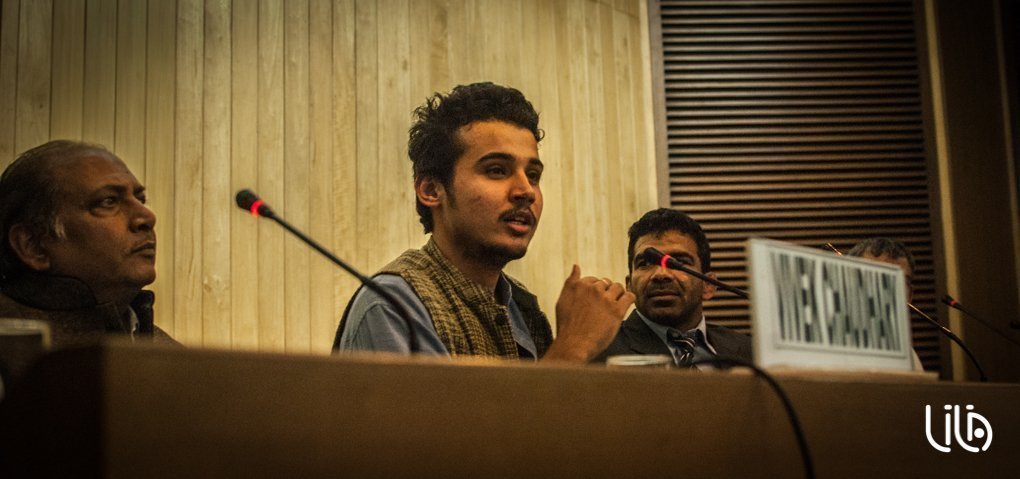 Director Vivek Chaudhary
© Samuel Buchoul for LILA Foundation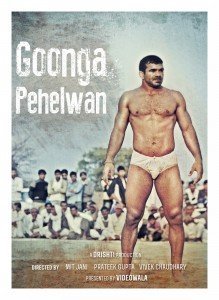 Mission Rio16 is an attempt by the filmmakers of Goonga Pehelwan to help fulfill, for a differently abled person, what is considered to be every athlete's greatest dream – the pinnacle of all sporting contest, a competition that the world witnesses only once in four years: the Olympic Games. Mission Rio16 aims to help Virender in his quest to reach the Rio Olympics 2016 by fighting the bureaucracy through a Public Interest Litigation in the Delhi High Court and trying to bring about a policy change that allows differently abled athletes to go to the Olympics with other deserving athletes.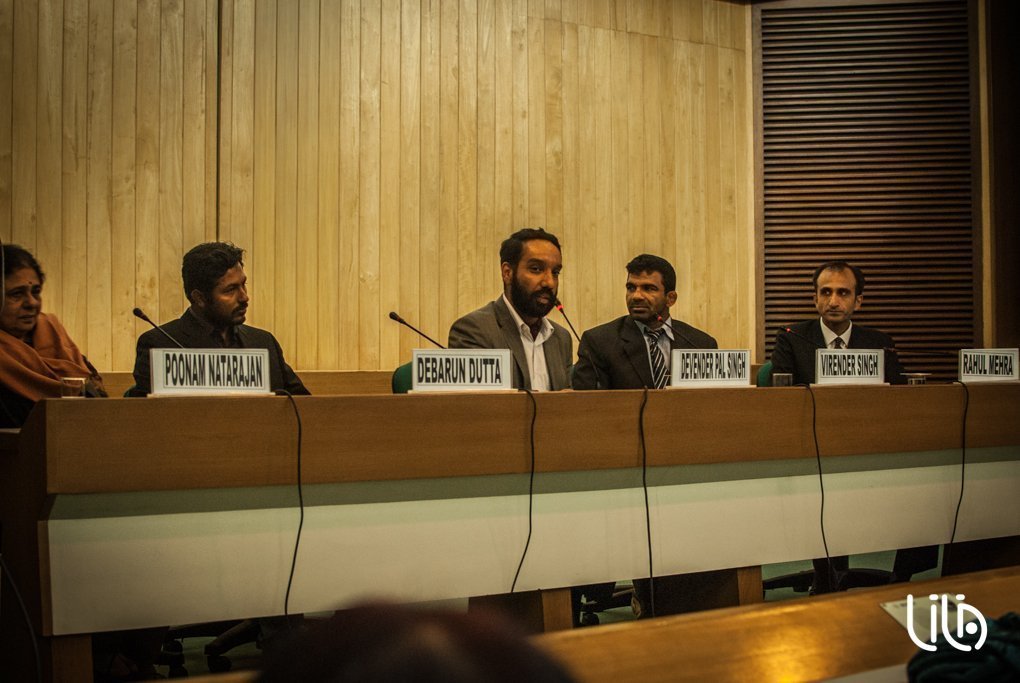 The Panel: Poonam Natarajan, Debarun Dutta, Major DP Singh, Virender Singh and Rahul Mehra
© Samuel Buchoul for LILA Foundation
Panel
Poonam Natarajan currently heads the National Trust (Ministry of Social Justice and Empowerment). Natarajan is a senior figure in the disability sector with over twenty years of experience. She undertook a course in Special Education from Spastics Society of India, Mumbai, in 1982, in order to teach her child who had Cerebral Palsy. Natarajan then founded Vidya Sagar in 1985, when she moved to Chennai and realised that there were no services available there for children with multiple disabilities. Vidya Sagar, which commenced operations in 1985 with only three children, now caters to over 2,000 children and young adults with cerebral palsy in a single year.
Rahul Mehra is Founder Member & Spokesperson of AAP (Aam Aadmi Party), a lawyer, sports activist & public spirited person. Mr. Mehra forced the powerful BCCI to become more transparent and has now filed a public interest litigation against almost all major sporting bodies in India, demanding that they come clean.
Major Devender Pal Singh is an international marathon runner. His journey from being brought dead from the war zone of Kargil to becoming India's first amputee marathon runner earned him the title of Indian Blade Runner. Running a marathon and representing India at the Olympics are on top of the agenda for this 37-year-old. "The day the doctors informed me that I had lost my leg, I took it as a challenge. Living like a physically challenged person was not acceptable to me," Singh said.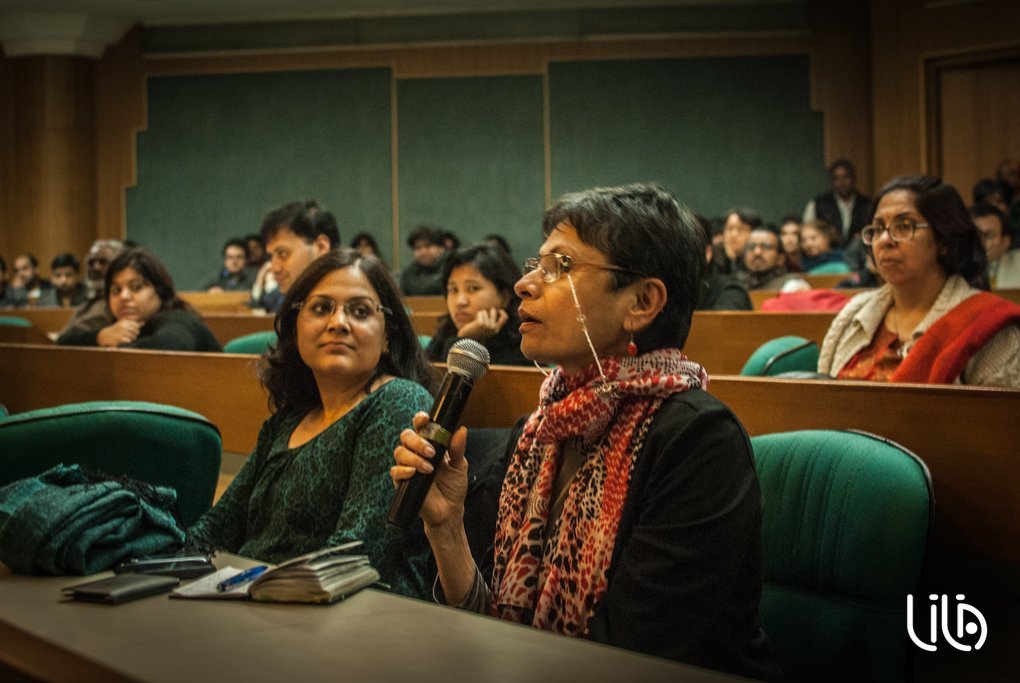 Q&A Session
© Samuel Buchoul for LILA Foundation
"Mission Rio 16: An Evening for the Cause of Goonga Pehelwan", the third LILA Lumieres event, opened to an overflowing hall at India Habitat Centre, New Delhi, on 18 December. It featured 'Goonga Pehelwan' a biopic on Virender Singh aka Goonga Pehelwan, India's gold-winning deaf-mute wrestler. The film, produced by Drishti, Ahmedabad, is the result of the untiring work of three young directors, Mit Jani, Prateek Gupta and Vivek Chaudhary.

LILA Foundation for Translocal Initiatives organised the screening, along with a panel discussion on 'What Makes a Champion' featuring Poonam Natarajan, head of National Trust, Rahul Mehra, sports lawyer and co-founder of Aam Admi Party and Major Devender Pal Singh, the amputee marathoner who returned from the Kargil war zone to become 'India's Blade Runner'. LILA took up this cause as yet another step towards critiquing the systemic exclusion embedded in our developmental paradigms. Challenging closed categories is, along these lines, the main theme of the ongoing LILA PRISM Lecture Series.

Rahul Mehra opened the panel discussion by referring to how we do not know enough about the legends, among the differently abled. He mentioned how, despite being a sports lawyer and activist for more than 14 years, he had not heard about Virender until the three young directors related his awe-inspiring story to him. He mentioned that the politicians heading sports bodies, hardly show any vision in their administration of sports. Rahul appealed to the political class and the sports bureaucracy to develop empathy, and critiqued the sports scene where the protectors of rights themselves turn into violators of rights.

Officially, Olympic rules allow differently abled athletes like Virender Singh to participate along with able-bodied people, on the condition that he has a team that helps him cope. But the disabled mindset of Indian sports bureaucracy is the obstacle before Virender. Mehra also appealed to the media, to spread word and mobilise mass support for the cause, so that Goonga Pehelwan will finally be able to go to the Rio 2016 Olympics.

Poonam Natarajan admitted that the disability sector, for a long time, has been concentrating on the basics, only trying to get services to the differently abled. The focus till now has been on the lacks of the differently abled, rather than on their abilities. The government and this sector itself must now move on, to focus on the abilities of those people, and sports must be given prime attention. Poonam recounted how her own students have been wanting to play games, but they hardly have any chance to do so. Besides the government, the civil society needs to be urgently awakened to this cause. While everyone is busy doing their own things, there needs to be a platform to come together for common causes. Poonam cited her own story of coming into this sector 34 years back, because of her son who is affected by cerebral palsy, with multiple disabilities. She guaranteed her own support in making inroads into promoting sports talents within the disability sector, and brining them into the mainstream.

Devender Singh Pal, himself an awe-inspiring champion, cited his own example to suggest that the most crucial thing is awareness building. As a marathoner, he felt that spreading awareness across the country could be taken up as a cause. Devender cited how, when Oscar Pistorius, the amputee sprinter, was making news, people said he was better off with his artificial limb. Such lack of awareness, of negation of perseverance and talent, are deplorable. Sport itself is not given any prime space in the educational system of the country; this also needs to change. The nepotism gripping the sports administration in the country needs to be immediately rooted out, and an awareness drive in this direction needs to be launched. Singh made the audience promise that they will all spread word through their own social media pages.

After the screening, there was a Q&A session with Virender Singh, Director Vivek Chaudhary, Virender's father and uncle who have been his trainers. Vivek himself had a close connect with the deaf culture, mentioning his mother being 95% deaf. He related how as a child he had difficulty in accepting it, and his own struggle of overcoming his inhibitions.

The session proved to be a very moving one, and deconstructionist in many ways. The conference space that Gulmohar Hall is, transformed itself into a community space for a lot of differently abled people. Surbhi Taneja did the interpretation for them, and many of them came forward to ask questions and give comments. They suggested improvements for the film's presentation in terms of subtitling, and mentioned the need to address cross disability issues, for instance with a sign language video running in parallel to the main narrative. There were many mothers of differently abled children present, and their identification with the cause was a moving tribute to Virender's quest. Virender himself, coming up to speak on his own, stole everyone's heart. In response to a question, he said that he loves his country, despite the discriminations. He insisted that does not want to reject anyone, that is happy loving everyone.

The evening ended with a reiteration of the promise that everyone present would do whatever they can to promote this cause. You can also do the same by supporting the cause on Facebook.
Panel Discussion
© Samuel Buchoul for LILA Foundation